Casio 2575 Sports Watch

Published Oct 22, 2003 Author
petew
Review controls
Sports watch providing stopwatch, distance measure, countdown timer... you get the idea? Just about everything you could as of something you put on your wrist while out running.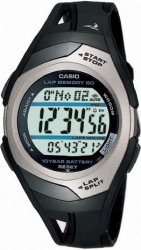 About a year ago my I started 'getting fit' - one of those things I've observed that people seem to do as the big 4-0 approaches. I've never been good at getting fit - nice idea, and if I could achieve it from my armchair then I'd be pretty happy!
Anyway - this time I've managed it, mainly due to a personal trainer that likes to stroll alongside me while I stagger around the roads and woods at full pelt (does a personal trainer count as a gadget? Maybe I'll write a separate article!).
Of course after a few months of this I wanted to do a little more than once a week and started a mid-week run by myself. I guess this is how fitness fanaticism is born. Running by yourself is more difficult - aprart from having to generate the enthusiam all by yourself, you have no one to tell you how well you're doing. The answer to that little problem of course is to time yourself - which in turn is a long winded introduction to the Casio 2575 watch.
The watch is pretty amazing, and I have my wife to thank for such a fascinating toy. It will time me - but does loads of other things as well. Brief summary:
Tells the time - in several places around the world
Has 5 alarm (5? no idea why!)
Has a stop-watch that measures time with lots of 'split times'
Will measure the approx. distance you run if you set it up to know your stride length.
Has 61 'memories' - that somehow record a large number of split times. Very clever!
Will provide a 'count-down' timer - useful for boiling eggs that one.
The alarms are interesting - there are 5 of them and I've used one of them to wake up in the mornings. That one has a 'snooze' function, which I need numerous times to actually make it out of bed. Unfortunately I've yet to work out how to stop the snooze function from repeating except by randomly pressing buttons while still very groggy!
All of the many functions are controlled by four buttons on the left of the watch, which are difficult to use if you wear your watch on your right arm as I do. Two of the buttons are on top of the watch, the other two on the side. The two on top are flush with the front of the watch and take a lot of pressure to push, and you have to get it just right. This is unfortunate because these are the buttons you have to use to start the stop-watch and record lap times.
The watch comes with a good though very small print manual, which it really does need. Unfortunately you need the manual to do almost anything - which again is difficult and a little distracting when you're trying to run.
So - do I like this watch? Well as a watch I'd rather have something with hands, but as an aid to exercising - yes. I like it, even though I have no idea how half the functions work. I'm sure over time I'll work out what at least some of them do, or rather how to make it do those things. My only real critisism is the 'user interface'. The buttons are difficult to press, especially when exercising and the combination of button presses is not obvious.
Value for money? Good
Ease of use? 6 out of 10
Link to Casios datasheet for this product.