An entertaining backpack

Published 20 June 2007 Author
petew
If you're hoping to take advantage of summer and want something to carry provisions, a few clothes and help provide beach BBQ entertainment then the JanSport Recourse range might be for you.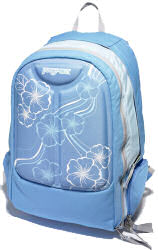 JanSport, a producer of backpacks and other luggage items, has taken the opportunity to add support for music 'on the go' to their new 'Recourse' range. Taking advantage of the wide-spread availability of MP3 players, JanSport have not tried to re-invent the wheel by building a music player into a backpack. Instead they have provided support for your current music machine - leaving the choice of iPod, Zen, MP3 or standard CD to you.
Headphone playback is supported, but interestingly JanSport have opted to include integrated flat-panel speakers into the rear of the backpack. These are effectively invisible from the outside - no speaker grills!
The backpack has three main compartments and an insulated 'cool' area. Opening the largest compartment gives a generous storage area - ideal for picnic blanket. Within this area there's a pocket large enough to hold everything from a small USB player all the way to a portable CD player.
Inside this pocket is a lead with a standard 3.5mm stereo jack that you plug into your music player. This is wired through a volume control on the right-hand shoulder strap and then through to 3.5mm jack socket, back inside the large compartment.
You now have two options. The first, and probably most obvious, is to plug your headphones into the socket. If that sounds a little odd - why do that rather than have the player in my pocket - well in this way you can control the volume of music blasting into your ears from the convenient rotary control on the shoulder strap.
In the second, rear compartment is a grey lead with another 3.5 jack. There is also a battery compartment for 3xAA batteries.
Assuming you've added the batteries, plug the lead into the previously mentioned socked and hey-presto, your have music shooting out of the two disguised speakers at the rear of the backpack. The sound quality is adequate, although lacking a little bass. Setting my Sony music player to 'line-out' mode though overloaded the amplifier resulting in severe distortion, so it's expecting standard headphone levels!
From a volume perspective this is no ghetto-blaster of yesteryear. Instead it'll provide adequate sound maybe for a picnic or background music for a slightly larger gathering. It would also be ideal for soft background music around a camp-fire.
Battery life is good on the speakers. Using high-capacity NiMH rechargeable batteries gave me over 8 hours of continuous use (at which point I switched off!)
One slight oversight I think is that the only way to connect the speaker lead to the socket is by going outside and back into the other compartment.
Lest we forget that we're reviewing a backpack - I should mention the other aspects of this product. At the bottom of the backpack is a separate zipped area. I can't make up my mind whether this is a good place to store provisions, or waterproofs in case of rain!
One nice touch is an insulated pocket accessible from the outside. This is a good size being large enough to hold a couple of bottles of wine, or more likely one bottle, some food and a cooly block. The thoughtful people at JanSport have included a bottle opener, although I'm not convinced of the value of that. You'd not be able to take many bottles and many bottles have twist tops. My preference would have been for a corkscrew - there is nothing worse than settling down in an idyllic spot, spreading the blanket and taking out the cold bottle, only to find you can't get to the contents!
The front of the backpack is well padded and comfortable to wear, although there is no waist strap for those that prefer to take the weight from their backs.
The JanSport Recourse backpack is priced around £100, which seems somewhat expensive when compared to products that don't have speakers. If you want music on the go though this is much more convenient than carrying a separate unit.
Available in black, 'Catolina Blue' or 'Purple Echinacea' for £99.99 from eBags :
http://www.ebags.co.uk/products/index.cfm?modelid=84456
Information from JanSport available from the following link :
http://www.jansport.com/international/eu/products/K879.html