AOC 27inch flat panel q2778vqe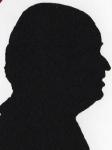 This is a very nice 27inch flat panel designed to show 2560x1440 resolution using Display Port, it also has Digital, D-Sub and HDMI connections that will show at 1920x1080, but assuming your graphics chip has HDMI 1.4a this unit has a big plus.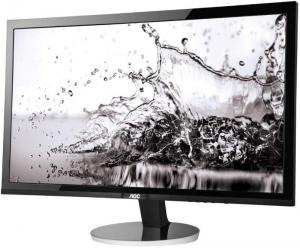 click image to enlarge
The AOC q2778vqe measures 62.5x38x1.5cm, its stand is circular and 22cm across this raises the unit by 8cm from your desk.
The viewable screen is 60x34cm which gives the notional imperial (diagonal) measurement of 27inches.
Via VGA (D-Sub) or Digital you will get only the standard 1920x1080 resolution, with Display Port its 2560x1440 automatically and if you have a recent notebook you can certainly have it as a second display showing 2560x1440 via HDMI. I am told this should also be possible on a Desktop system if your graphics driver supports V1.4a of HDMI.
The official term for a panel capable of 2560x1440 is WQHD.
Whatever resolution you use the images are clear, crisp and easy to read. These days' panel manufacturers are awake to the fact that you only get one pair of eyes and they need to be looked after.
The screen surround is shiny black but it's not so important as a static panel gets far less fingermark attention than that of a notebook screen surround. The important thing is the visible screen and that is beautifully non reflective.
There are five buttons towards the right bottom edge of the monitor to make changes and allow different setups for various purposes. These days the 'Auto' selection is good and often cannot be improved upon.
I found the screen perfectly watchable from above and below as well as the more natural level with the eyes position. I also found that side to side viewing was good I am sure the claim of close to 180degrees is still usable but unless there are around seven or eight people viewing the one screen why would you get to such angles.
To the right of the support arm is the AC input and to the left is a line of connections, Display Port, D-Sub (VGA), Digital and HDMI beyond these are audio in and headphone connectors.
So why would you buy a 27inch panel to view 1920x1080 resolution, in truth you probably would not but 2560x1440 from Display Port or recent HDMI connections from say a notebook that only has 1366x768 gives an awful lot more screen to show either more than one application on the screen or in the case of a large spreadsheet so much more information at a viewable size which again means no squinting and less time off ill with headaches and other illnesses caused by long periods viewing poor panels. So it is a win situation for the viewer and even for the boss.
The AOC q2778vqe is available from the link below for £296.59.
http://www.amazon.co.uk/gp/product/B00U2ZZX5A?ie=UTF8&tag=gadge0a-21&linkCode=as2&camp=1634