Thecus Five Bay NAS Storage N5550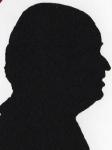 Review controls
Way back in 2012 I attended a presentation where Thecus were involved, I heard nothing from their better known UK partner but a trickle of press releases emerged from Europe which eventually led to the unit arriving for review.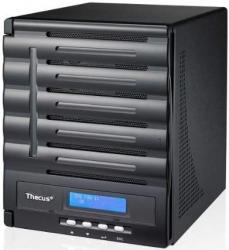 click image to enlarge
While the largest NAS I have previously looked at was a two drive offering. This five drive offering does everything to make the expansion easier. However it is still small enough to sit on a desk should that be required.
It is 18.5x23x24cm the last figure the depth is without anything connected, add another 3cm for mains lead and Ethernet connections in the rear. Also at the back are four USB, HDMI, VGA and a range of audio connections.
The sides, base and top are clear and the front has a door and four touch buttons with a small display showing through a Perspex window. Open the door right to left to reveal the drive bays and a lot more controls.
There are a column of five LEDs to the left of the five drive bays that let you insert and extract drives by a simple control on the front. Just below the LEDs is a USB3 port. Below that two buttons one the all important on/off.
The unit itself has its own Atom processor to handle the demand swiftly to and from whatever PCs it is linked with.
This is likely to be used in a small business or a home user with complex storing and security requirements. The inbuilt 2GB of RAM make control easy and security is taken care of by McAfee. The amount of potential storage is only limited by the size of drives available. I used a 1TB, 500GB and a smaller unit for my tests.
Other units I have looked at previously were little more than external storage devices that happened to connect via Ethernet. Here the master control is of course Ethernet but with all those USB2 and the USB3 port even more storage is available should you need it. However the small size means it can be unobtrusive wherever you give it room.
The unit comes with a 24 month warranty. A total of three CD's including a copy of the excellent Acronis True Image software to allow you get exact copies of better still to be able to clone drives, one Ethernet lead and two bags of screws. The documentation is multi language and consists mainly of a Quick Installation Guide. This is a single sheet with five points and a total of nine actions to get you up and running out of the box.
However a visit to the Thecus site has lots more to offer including a Classroom where you can learn all you might need to setup, maintain and run the NAS. Best of all anyone with little knowledge never need to feel embarrassed.
The classroom is just one of the excellent aids available of this well laid out website to get you up and running should your require more than the nine actions that are clearly laid out with illustrations in the Quick Start Guide.
If you still have difficulties then the online Technical Support is easy to follow and you do not have to search for ages for where to connect with them.
AS stated this was my first encounter with anything larger than a two bay NAS and it was a pleasure to use and transfer data to and from. My test period was short but everything worked as I expected it to without any problems.
Should you need more than a two bay unit then this five bay offering from Thecus was excellent. It is available without drives from the first link below for £444.43 with free delivery.
http://www.amazon.co.uk/gp/product/B0081TN3PQ?ie=UTF8&tag=gadge0a-21&linkCode=as2&camp=1634