Viewsonic VX2460h LED Panel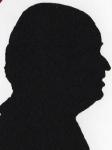 This LED display is light and easy to move something you could not have said for the CRT displays of much smaller size not that many years ago. It is also brighter has better contrast and all in all a very nice item on the desk.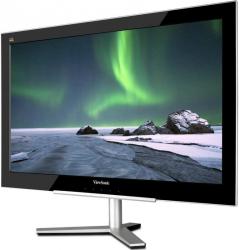 click image to enlarge
It is 58x35.5x1.5cm and sits on a 'Y' shaped base that raises it 8cm of your desk. The 'Y' gives it a very stable base of 22cm in length and 25cm along the open edge of the 'Y' but at not much increase to the overall weight that is only 3.5kilos.
Once you start using this LED offering you – if you are as old as me – look back and remember your first large monitor – it was a 17inch Dell I purchased second hand – and the on the rare occasions it was moved you certainly found somewhere to put it down before you lifted it up as not only was it big it was also extremely heavy.
In fairness things moved on long ago with the first LCD panels and even larger screens became easily moveable. However the day when I would review a 24inch panel sitting on top of a Desktop PC still seemed far away. This however is not only light as a panel but the Y shaped base means that you do not need large amount of weight in it to keep the unit stable. Hence my ability to do part of its review in that position, it also shows how good the image is when viewed from level – when standing – and below – when sitting over long periods.
The claimed viewing angles are 170degrees horizontal and 160degrees vertical, while my normal position was nothing like these I did move around to prove their figures correct. Best of all the colour and image stays true.
The LED light source is stated as a minimum of 40,000 hours (this sadly I have to take on trust) as my loan period was a lot less.
The response time is 2ms which means no flashing as a moving image changes just sharp clear easy to follow images. Colours appeared crisp and true and the arduous task of watching several DVD's become more tolerable.
Perhaps it is worth mentioning that image shift does not occur and what you see at 8AM is still rock solid at 8PM, if an icon was 2mm from the top corner in the beginning it is still 2mm from the top corner several hours later.
In Windows 7 there are some really nice desktop backgrounds and these are perhaps one of the best tests of true colour.
I used it both Analog (VGA) and Digital (HDMI) and was sure to also attach it to a notebook as well as the main desktop as this gives a different video input. I also enjoyed a video or two played though the notebook for testing.
While full HD 1920x1080 is the native resolution I still had no complaints when I just mirrored the notebook resolution. The unit has around 5degrees of forward tilt and about 15degrees of back tilt, no side to side movement is possible but as I stated it is not heavy so easily turned on its stable base should that be required at any time.
It is very thin – one reason for lack of weight – but this means it is also very stylish looking. Even after a long day of use there was no real heat when you placed your hand on it. There are a line of five touch points under the screen should you ever need to make adjustments. I did these to check the fact that there was plenty of spare contrast and brightness available but the 'Auto' setting always did a good job so only the on/off was really used.
Doing my searches found the Viewsonic VX2460h at a best price of £158.12 inc delivery from the first link.
http://www.amazon.co.uk/gp/product/B007RHT60Y?ie=UTF8&tag=gadge0a-21&linkCode=as2&camp=1634
http://www.viewsonic.com/products/desktop-monitors/lcd/led-lcd/vx2460h-led.htm