External Storage for the pocket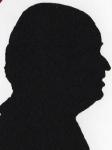 Here I am looking at a 32GB external USB3 SSD drive from Verbatim and a more normal 32GB stick type flash USB drive from Kingston. While lots of people make stick drives in all sizes 32GB is certainly a serious size.
Verbatim USB3 External SSD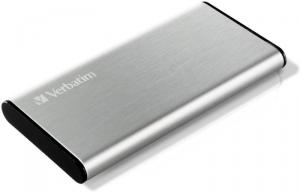 click image to enlarge
While I have reviewed a number of internal SSD drives this is the first that I have looked at that is designed as a USB offering, to get the best speed out of it you will need USB3 but it will work on a USB2 port quite well.
It is small enough to fit easily in a top pocket. Its dimensions are 9x4x.6cm; the USB3 lead provided is only 13cm so it will need to be placed close to a port. It comes in brushed aluminium with the two ends in a light grey plastic.
The claimed speeds are 150MB sec read and 60MB sec write but of course they are maximum speeds and you probably will get somewhat less.
As I have probably bored you with previously my first PC only had floppy drives and the first one I had with a hard drive was a 5.25inch one that weighted a great deal and had the huge capacity of 10MB yes I mean 10MB.
So the capacities hear are really large in comparison and of course so are the transfer rate, much of the requirement for large files is down to the graphical interface that most first saw nearly twenty years ago with the dawn of Windows.
The only indication of the drive being on is a blue light that shines through the front plastic and flashes when reading or writing.
Although it is sold as 32GB the actual available capacity is 29,884,252,160 which is only 27.8GB so even with the 1000 or 1024 differential I cannot quite work out why it is called 32GB.
The Verbatim USB3 External SSD (32GB) is available from the link below for £102.70 with free delivery. 64GB and 128GB are also available.
http://www.amazon.co.uk/gp/product/B004U99TFE?ie=UTF8&tag=gadge0a-21&linkCode=as2&camp=1634
Kingston 32GB DataTraveller Ultimate 3.0


click image to enlarge
http://www.verbatim-europe.co.uk/en_1/product_usb-3-0-external-ssd-32gb_33989.html
This is a conventional USB stick drive although certainly a chubby one. Its dimensions are 7.5x2.3x1.5cm but fits into any USB port however the width may mean that the next door port is unavailable for use while inserted.
This can just meet the 32GB claim by having a capacity of 32,010,944,512 or 29.8GB so this meets the 1000 criteria.
It has a blue light that flashes on its rear end when reading or writing. There is also a slot to let you fit it onto a set of keys.
It weights 15grams and is two shades of grey plastic light (near cream) for the face, back, top and bottom while the sides are a darker (near silver) shade.
The claimed speeds are 100MB/s read and 70MB/s write again these will be in perfect conditions. The drive works fine with USB2 ports but maybe as it is so chubby an extender cable should have been provided to avoid blocking another port.
Kingston 32GB DataTraveller Ultimate 3.0 drive is available from the link below for £33.35 delivery free.
http://www.amazon.co.uk/gp/product/B003ULUGMI?ie=UTF8&tag=gadge0a-21&linkCode=as2&camp=1634