HP EliteBook 2730p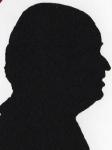 This Netbook sized notebook/tablet PC uses a low power Intel Centrino processor (all other netbooks seem to use the Atom processor that is not really powerful enough for Vista) so what has this HP offering got to get you buying it?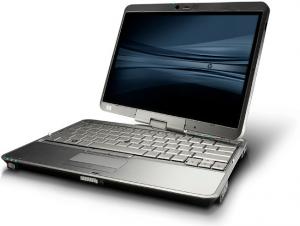 click image to enlarge
The HP EliteBook 2730p looks superb with the unit –apart from the base – being brushed aluminium. It is 29x21x3cm and it weights 1.72 kilos. You can shut the lid without turning it off or putting it into standby.
However the weight gives the first problem walking around with 1.72 kilos in your hand all day soon becomes tiring. The 2GB of RAM and the dual core processor just about make Vista usable. It has a 111GB hard disc split into three and of course a fingerprint reader for added security.
The front edge has the open latch and a slider for on/off with three LED's on the edge. The left side has a single USB2 port an info centre button and Bluetooth on/off slider along with the dock for the rather large stylus. The rear has A/C input, external monitor connector, Ethernet and Modem sockets. The right side has headphone and microphone sockets as well as SD card one and a further USB port and a Kensington lock socket important as this is just about able to fit in a poacher's pocket. The top edge of the screen has a built in web cam that can take images up 1600x1200. The viewable area of the screen is 26x16.5cm giving the notional diagonal measurement of 12.1 inches.
There is an 85 keyboard with the alpha/numeric keys being full size. The top row (function keys etc) are very small and it fits no less than 19 of them on it. Just behind this is a swish looking volume slider and a couple of other touch buttons. There are some hidden speakers but the volume they produce (even at 100) can only be heard in a near silent room so you would definitely need a headset to use something like Skype.
It has a trackpad cut onto the brushed aluminium but the left and right mouse buttons seem to be a little hard to use. It also has them duplicated under the space bar at the base of the keyboard and it also has the erasure type mouse built into the keypad.
When you use it in tablet mode you find four small buttons built into the side of the screen (invisible in notebook mode) and the 1280x800 display automatically turns from landscape to portrait.
In my tests (without Internet or Bluetooth) I got just over four hours of battery use at the default resolution that was okay without being bright. Internet use gave you around two and half hours.
I did not use it for playing DVD's as it does not have a CD/DVD and if you power external items from the units battery the life would be substantially reduced. As this is not an entry level product no CD/DVD is a mistake. I did manage to install software on the unit by either copying the CD to a pocket hard drive or using an external CD-ROM however you really have to prepare to do either. Yes some recent PC's allow you to install software via the Internet but installing several hundred MB of software will use a lot of battery.
I was surprised that no Anti Virus software is provided; I installed the free AVG software as I do not like accessing the Internet without protection. During my two week review period Windows Vista did no less than six quite long upgrades all using battery, of course I could have used mains power but this is a tablet.
I also found that the supplied battery lost around 20% of its power when not used for a couple of days, maybe I had a faulty battery as the figures quoted for battery life were far more than I achieved.
To me this item is a 'curate's egg' and at the price there are better products available out there. Doing my Internet searches found the HP EliteBook 2730p at a best price of £1391.75 from the first link below.
http://www.amazon.co.uk/gp/product/B001O7LS3G?ie=UTF8&tag=gadge0a-21&linkCode=as2&camp=1634
http://h10010.www1.hp.com/wwpc/uk/en/sm/WF06b/321957-321957-64295-306995-306995-3784558-3794512.html