Acer Aspire One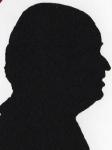 Many months after the launch I finally get my hands on one, and yes it was worth the wait. Nice small machine that does not cost the earth and if you only want word processing, email and Internet then why look elsewhere.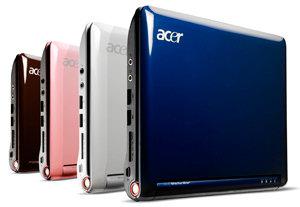 It weights under a kilo (984 grams) and is 24.5x17x3cm. Mine was cream with the inside of the lid black.
It has an 84 key keyboard with alpha and numeric keys being near full size at 1.5cm square, I say near full size as the space between is of course far less than a standard keyboard.
The left side has power adapter input, VGA out, Ethernet, USB and SD card slot. The front has only the slider switch to turn wireless connection on/off. The right side has microphone and earbud/headphone sockets, two more USB sockets, another SD card socket and Kensington lock connector, the latter could be useful as the unit will easily fit in a 'poachers' pocket. Why two SD card slots well one can be used to increase your useable memory, with SD costs still low it's cheaper than internal memory.
On the back hinge behind the keyboard are four LED's and on the right edge the on/off button. The best battery life I got was a tad over two hours of not that arduous use. Remember this unit had been through many hands before mine so was 'well used'. The battery certainly lost around 10% of its charge overnight and was totally discharged in around four days from being switched off. Also I believe I had a pre production model so it is possibly older than the initial announcement.
The obvious other unit to compare it to is the Asus Eee (review of the Eee 901 27-10-08) that had a far beefier battery capable of close to six hours but it does cost more. Here I found the boot time was around 25seconds with shut down 10 seconds. You will have guessed that this is Linux and not Windows.
While the look and feel is very similar to the Eee there are a few more options and applets with the Aspire One. The icons on the 19.5x11.5cm (notional 8.9inch screen) are a little larger. The four displayed groups are Connect, Work, Fun and Files with Settings and Help being available from words at the bottom of the screen.
Connect has Browser, Messenger, Email visible and once you click it to full screen four other options become available. Work has Writer, Spreadsheets, Presentations visible (these are from Open Office 2.3) and another four items are available when it becomes full screen. Fun has Media Master, Photo Master and Games visible with two further options Webcam and Paint available from full screen mode. On the black background above the screen the webcam is all but invisible but it gets a good image in even poor light. Files has My Documents, My Music, My Pictures immediately available and three more when in full screen mode.
When you plug in Ethernet it connects automatically and when you add a printer it is immediately recognised (both things the Eee did not do) however as with all Linux systems before you switch I would make sure there are drivers available for all your peripherals.
So a few technical specifications (mine came with no documentation) Linpus Linux Lite v1.09. CPU Intel Atom 1.6GHz. Memory 512MB. Solid State 8GB Hard Drive. Battery Li-Ion 2200 mAh.
There are no inbuilt speakers (the Eee does). The trackpad seems strange as there is a 5cm wide area for the finger to move the cursor but instead of the mouse buttons being at the bottom they are at the sides so it certainly takes getting used to and as a lot of people already are anti trackpads this might mean adding a USB mouse and thus using one of the three USB ports.
As stated in my introduction for basic Word Processing, Email or Internet use it is fine, for carrying around at under a kilo it is also fine, however I must put up a question mark about battery life as two hours for someone on the road a lot is just not enough. It does have a decent price advantage over the Eee at the same size and if your software demands Windows a version is meant to be available and I will of course be reviewing it when I can.
Doing my Internet searches found the Acer Aspire One at a best price of £215.30 from the first link below that model has a far larger hard disk (120GB) than the unit I reviewed but in other ways seems similar.
http://www.amazon.co.uk/gp/product/B001BZ4QV2?ie=UTF8&tag=gadge0a-21&linkCode=as2
Doing my Internet searches found the Acer Aspire One, 8GB solid state drive running Linux for $299.99 from the first link below.
http://www.amazon.com/gp/product/B001BBS76Q?ie=UTF8&tag=gadge0a5-20&linkCode=as2
Doing my Internet searches found the Acer Aspire One, 8GB solid state drive running Linux for €235 from the first link below.
http://www.amazon.fr/gp/product/B001D90692?ie=UTF8&tag=gadge04-21&linkCode=as2