Illuminated Keyboard and Articulated USB Hub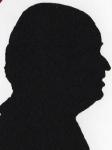 No not a keyboard and a hub but two separate items both at a good price with this firm charging only a flat low shipping charge for any order, something other Internet vendors might like to investigate.

Illuminated Keyboard
According to the blurb they do several colours and I just happened to get the pink one. I have used it for some time and while the colour would perhaps suit a lady I am not keen on it however the things it does I do find interesting.
First a button on the top right of the 109 key keyboard lets you turn the illumination on/off. Also in this area are the Num/Caps/Scroll lock LED's and they illuminate quite brightly so I defy anyone to type with Caps Lock on without knowing it.
The keyboard is 49x14x1cm, comparing that to a standard 102key offering it's not as wide or thick but a little longer. The keys are well spaced so if you tend occasionally to catch the adjacent key this is unlikely as there is a full 5cm between keys both in rows and columns.
The other big thing is that it is rubber and sealed so even a coffee spill should not upset the operation and you should even be able to wash it. I am not a fan of the rubber smell but this was totally odourless. The keyboard is flexible to the extent you could roll it up.
So with the exception of the colour (male bios) I have no complaints. Interestingly enough one of the extra keys is the sleep button -something this PC has never done- but with keyboard it does.
It is USB but comes with a USB to PS/2 adapter so can be used for either. I liked it the illumination I would find useful as lighting the keyboard is easier than walking to the light switch especially with the dark evenings.
The price from the link below is US $27 and shipping is only $3. Mine took around three weeks to arrive. The site says available in Blue, White, Pink or Green.
http://usb.brando.com.hk/prod_detail.php?prod_id=00355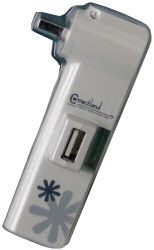 Articulated 4 Port USB Hub
This is not just another four port USB2 hub. It is 10x4.5x2cm and twists is many different ways to accommodate all those otherwise inaccessible ports on your PC. Both the port at the end and in the centre can be twisted up to 180degrees thus a USB port in the midst of other items can now be reached. Not only is the upstream port twistable but so is one of the downstream for items that just will not get to a standard angle.
The illustrations on the link below show the units abilities far better than my words can. I often used it with a notebook where the ports always seem to be at points where space is most at a premium.
If you need to get into places that other USB hubs cannot then this US $15 item almost certainly can. Shipping as with the item above is only $3 dollars US and should you purchase both items or any of the hundreds of other items on their site then you still pay only one shipping charge of $3 for the total order.
The current exchange rate means the keyboard and shipping is less than £15 and the articulated four port hub is less than £9 including shipping. Of course if you order both it's only around £22 including delivery.