Digital and Analogue Viewing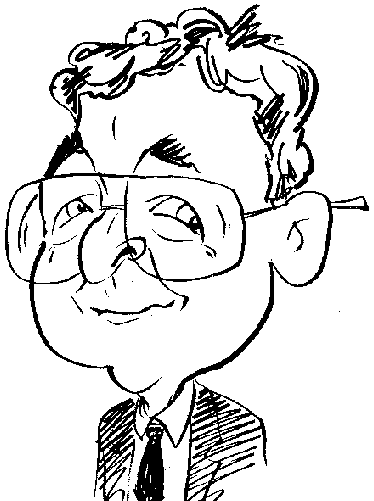 Adding a television tuner capability to your computer has never been easier thanks to USB but the viewing results can be disappointing.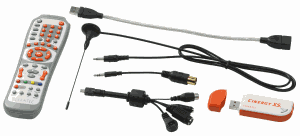 Adding to its already extensive portfolio of television tuner products, Terratec has released its latest offering for those looking for digital and analogue viewing on a Windows XP system. This product is the Cinergy HT USB XE which consists of the tuner unit, a small aerial, software CD and slim User Guide.
As is becoming standard practice with add-on television tuners, this device slots into an available USB port. Shaped like a bulky USB memory stick, the Terratec device measures 108 x 32 x 12mm (L x W x D). It is coloured off-white with dark grey sides. Due to its bulk, it will block access to any adjacent ports so really needs to make use of a vertical array of ports or preferably a hub that provides a top access port.
Setting up this tuner calls for a slightly unusual approach. Normally you would expect to install the relevant software before attaching the device. However Terratec has devised its own slant on installation. You first insert the CD-ROM into the drive but before proceeding any further you need to attach the tuner. The new device will be recognised and the automatic Wizard will take over and install the necessary drivers from the CD-ROM. This process is explained in the slim Getting Started Guide but neglects to mention that it is a four stage operation as different elements are detected with each requiring its own set up. You can then install the Terratec Home Cinema software and, if required, DirectX 9.0c and Adobe Reader.
When the Home Cinema software is run for the first time you will be given the option to set up a free trial tvtv account before scanning for any available television and radio channels. By default this program will initially search for analogue channels which, in my case, identified 5 television and over 200 radio stations. However, as most users will probably be more interested in the digital (Freeview) capabilities of this device, it is a simple task to select this option from a drop down list. You can also adjust the level of scanning from a list of three options. Apart from a difference in the amount of time taken up by the different scan levels, I noticed very little difference in the results achieved and the stations identified. In total 41 television channels and 25 radio stations were detected in my London-based residence.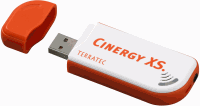 The various scans were conducted using the supplied mini aerial and a roof top aerial. While the results of the various scans were almost identical, the same can not be said for the quality of reception achieved with the two types of aerial. When using the small aerial, that forms part of this package, the reception quality was rather "hit and miss" with the latter generally in the ascendancy. Switching to a roof top aerial produced far superior results although even then there were some problematic areas. A number of television channels, identified in the initial scan, failed to produce any content. Instead you were left with a frozen image left behind by the previous channel viewed.
I was also unable to receive any teletext data on any channel despite this being a supported feature. Fortunately recording content proved to be more successful if rather demanding with regards to disk space. The Home Cinema's electronic programme guide/s (EPG) features were useful especially when setting up time shift recordings.
The Cinergy HT USB XE requires a system running Windows XP or later with reasonable specifications. While the product can be used in various locations on either a laptop or desktop system using the supplied aerial, the availability of a roof top aerial is highly recommended to enhance the viewing experience. Pricing has been set at £69.99 for this product.
http://tven.terratec.net/modules.php?op=modload&name=News&file=article&sid=250
Terratec Cinergy is available for £66.27 from DABs :
http://www.dabs.com/productview.aspx?Quicklinx=3WH2