LG Flatron M203WA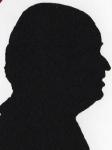 This is a rather nice 20inch panel from LG. It has both analogue and digital connectors as well as some quite reasonable speakers built in. It also has a TV tuner.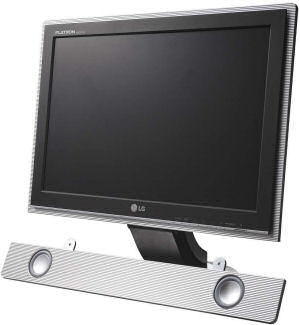 First the dimensions it is 49cm tall on it's base, 45cm wide and around 6cm thick at the thickest point. The base itself is circular at around 25cm. It weights 8.5kilos.
The screen itself is 44x27.5 giving the 20inch diagonal measurement. It has a 3cm surround on both sides and the top, the bottom has a 9cm surround with two quite reasonable conical speakers in it. There are eight buttons built into the edge of the surround but unless you are doing something unusual the only one you are likely to use is the on/off.
It is described as wide screen but it is 4:3. The maximen display resolution is 1680x1050 that seems to be the norm nowadays but of course my long term test panel from Acer is still a good seller and this is 1600x1200.
First lets cover it's use as a TV just plug in a coaxial lead and switch to TV mode. It autotunes and finds the five analogue channels. It starts from 0 so even though it follows the normal convention of BBC1, BBC2, ITV, Channel 4 and Channel 5 everyone is one less than you might expect. Channel 5 is somewhat flaky but that is so on my main TV and that's because of the channel it broadcasts on in my area.
There is also a SCART socket and I have also happily watched stored DVD's on it without any problem, the 20inch size makes this just about watchable as a group.
However to me this is a monitor first and last and as such the only real consideration is should I connect via analogue or digital. The latter gives a slightly better image but so it should. It comes with both leads as well as audio leads so your PC can use the panels built in speakers as output.
When in use as a monitor you may use the on/off switch the stated power consumption is 70watts and 3watts on standby. I tend to connect everything to do with a PC through a switched surge strip and normally just turn it off there.
For TV or 'other' use you will need the remote control this runs on two AAA batteries. It is 20x4x2cm and has a total of 31 buttons and the ubiquitous 5 position joystick. All are clearly labelled as to their purpose. But should any button or purpose be unclear there is a decent manual provided. The latter probably as it has the TV capacity as surely if it was just a monitor type panel all you would have got was the PDF file.
While the unit has Picture In Picture (PIP) abilities it only works across two different modules IE computer in main window with TV in the small window. To have different TV in both windows requires a twin tuner or at least something that supports digital and analogue.
TV was fine with the exception of Channel 5, crisp clear images with the sound coming from the built in speakers perfectly adequate. DVD likewise no complaints. The 20inch size makes this just about watchable from the sofa. The remote works well and does everything you would expect.
This leaves the main use as a computer panel and again perfectly fine no real complaints, in fact if I had not reviewed the Acer AL2021 (21/12/2005) then I might have considered this for a 5x5 award instead as it currently does not support HD it will have to be a highly commended.
The best price I could find was £282.17 including delivery from the first link below.
http://www.europc.co.uk/pages/ProductDetail.aspx?PID=76570&refId=kelkoo
http://uk.lge.com/prodmodeldetail.do?actType=search&modelCategoryId=050107&categoryId=050107&modelCodeDisplay=M203WA