Netgear Arlo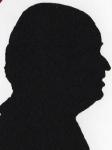 There are a lot of different brands of security cameras about, some very high end, others aimed at the home user. They all have one thing in common wires. Here a truly wireless solution that means not only no drilling through doors but also the ability to move them about at will.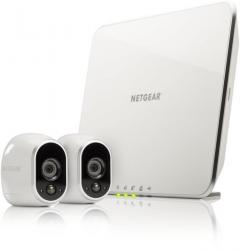 click image to enlarge
As these units are fully self contained they are weatherproof so they can be used outdoors as well as indoors. 720p video means that while it might not stop the burglar he/she will be caught on video and as you have movement detection you can receive 'motion alerts' wherever you are.
In daylight or good night light from recent street lights you get colour images or the unit has good monochrome night vision.
There are four different systems the only difference is the number of cameras they come with one, two, three or four. I received the two camera solution.
Everything you need is supplied including the batteries (Lithium CR 123) that should last at least six months.
How ever many cameras you have they are all identical and so if you have more than one it is perhaps best to name them so you know which camera is sending what information.
The cameras are 7x4x6.5cm while the base station they link too is 21x6x17cm and stands upright and links to your router.
The cameras can be wall/ceiling mounted – screws provided – or for those who like to move them around each camera comes with two magnetic mounts. During a presentation before I received the units the presenter mentioned that he had one mounted in a tree trained on his front door so he knew who was calling and if he needed to answer the door.
Documentation is sparse and is just really a URL which takes you to everything online; sadly the way things seem to be going today as printing documents in numerous languages adds to costs.
So while I tested them with a PC and an Android device, there are also Apps for Kindle and iOS.
Initial setup would be easier without having to refer to online instructions and certainly opening the battery compartment was tricky but I am happy about this as the burglar or fiddling child would need to spend time removing the batteries.
The supplied base station needs to located near your router as the Ethernet cable is not long. However that is about the only restriction unless you live in a very large property as once you have registered/synced the cameras they can be mounted/placed anywhere.
While most homes will be happy with the basic free cloud account up to five cameras and one bass station for 30days storage of video those who need/want more can pay additional subscriptions.
The base station has 16MB of flash memory and 64MB of RAM but as there are two USB ports on the back more storage on the unit can be provided.
One feature I would have liked is a way of knowing which camera is sending what alert as if you have one outside and one inside the person lurking outside is perhaps less of a problem than the person moving around inside.
This is not a cheap system but it is convenient and does not require DIY skills. The Arlo systems start at £183.84 for a single camera, the dual camera system is available from the link below for £279.99 with free delivery. Additional cameras are £107.96.
http://www.amazon.co.uk/gp/product/B00TDNYNP8?ie=UTF8&tag=gadge0a-21&linkCode=as2&camp=1634