VAX Carpet Cleaner W85-PP-T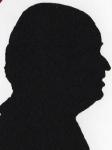 Think of it as a vacuum cleaner that washes and dries and you are on the right track. If you have empty rooms its brilliant as you work in straight lines, it washes and dries as at goes along so clear everything away for those new looking carpets.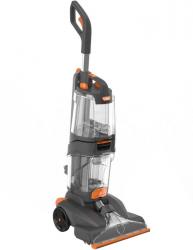 click image to enlarge
It is 111cm tall, 33cm wide and 35cm deep and the total weight is 9.5kilos.
It comes more of less assembled in a 67x47x40cm box and it evens contains two bottles of carpet cleaner fluid in the box.
Assembly is straightforward just add the handle to the base and clip in see through containers to the front of the unit. Joy of joys it comes with a good length of cable at 8metres.
I have described this as a carpet cleaner but it works just as well on solid floors and would be great for a number of clubs I have been in where the floors are sticky with the spilt beer – at least I hope its beer – as standard washing will never work on those.
I saw a demo of one of these working on a floor area stained with coffee over a two day period and it did bring the floor up like new.
The only problem I see in a home is that rooms are never empty, it you can do half at a time you have less clutter than most.
There is a twenty page A5 'Let's Get Started' booklet and I suggest you read it first I certainly did and as regular readers know I am normally one who reads only when things don't work. The reason I did it on this occasion is that I did not want wet carpets and remembering the demo by experts I knew that wrong assembly could cause problems.
So having decided that the fool proof assembly was just that I then added water to the tank and all the other tasks as laid out.
You are warned about colour fastness and how to test on a small area by use on a cloth but unless you have old maybe antique carpets and rugs modern carpets are normally colour fast.
The dial on the unit has wash and rinse settings and the last thing to do before starting is to plug the mains lead in and switch on.
Use it like a vacuum, you are told to vacuum well before you start to remove any dusk and dirt from the surface of the carpet.
Throughout the 'Let's Get Started' booklet there are tips and most are useful. However well you clear your rooms there are always going to be odd places where the 33cm wide shoe will not fit and for this a hose and 'SpinScrub' tool is provided.
Where possible work in straight lines, there is a trigger on the handle use this on the forward stroke and you release water and solution let go on the back stroke and this sucks up the liquid it's an easy motion to learn provided you have clear space but if you are always stopping to move something it's not so easy.
The VAX Dual Power Pro W85-PP-T is available from the link below for £249 with free delivery.
http://www.amazon.co.uk/gp/product/B00SHWNRBM?ie=UTF8&tag=gadge0a-21&linkCode=as2&camp=1634