Russell Hobbs Purifry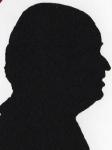 A lot of homes these days do not have a proper kitchen so a small oven type device can have its place. This small unit can fry – without fat – grill roast and more. The nearest thing I have previously reviewed is the Philips Airfryer.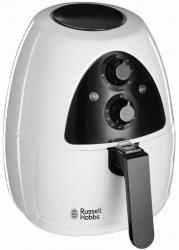 click image to enlarge
The Russell Hobbs Purifry fryer measures 32cm tall and 25cm deep (30cm with handle) and 25cm across. It runs from a standard 13amp plug.
The bowl/basket/partition and handle – the bits that are removable – are all dishwasher proof.
Almost anything that you would cook in a conventional oven can be cooked in the Purifry in fact when I saw this demonstrated they were cooking cakes and scones in it.
The instructions say it can be used by children from eight years upwards. The sides do get warm and you are advised to use it on a heat proof surface. The most heat goes out the vent at the rear, the top remains cool.
Among the things I tried were potato wedges cooked from raw in less than 15 minutes and pastry which was crisp – certainly no soggy bottom.
While the demonstrator claimed a meal for four was possible, I think that for two certainly and ideal for thos3e times when you are eating alone.
The basket that sits within the bowl is round 10cm deep and 19cm across, cooking times will increase the fuller the basket is.
The bowl fits snugly into the outer case and the handle fits at the top of the bowl and stretches almost to the bottom giving a firm hand hold, it has a substantial feel.
Above the centre is a semi circular black area with two LEDs orange and green. Towards the base of this area is a dial which you can set the temperature required between 80 and 200 degrees Celsius. Above this is a slightly smaller dial that you set the time required between 10 and 60 minutes. The orange one remains on while there is time left on the timer, the green one goes out when the temperature is reached.
The eight page A5 instruction booklet describes everything as well as giving the expected cooking times for a whole range of items together with and instructions. Finally it has eight different receipts to give you a bese of cooking ideas.
Do not think of this solely a no – or very little – fat fryer, it can do this and of course for children it is ideal as there is no chance of a fat fire as there would be using a deep fat fryer, it is also a good deal healthier.
However it is all the other things it can do and there is a removable partition in the centre of the basket that enables you to cook two different things at the same time without contact being made.
I have enjoyed a number of meals using this product and have not had any failures, it does exactly what it claims, as it is far smaller it is also cheaper to use than a conventional oven.
The Russell Hobbs Purifry is available from link below for £82 with free delivery.
http://ao.com/product/20810-Russell-Hobbs-Fryer-White-29765.aspx