Cook by Halogen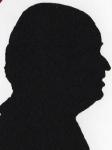 With first living spaces getting smaller one solution is to cut the kitchen. With people of working age and no children eating out for time saving or pleasure is often more important than preparing a meal from scratch so oven.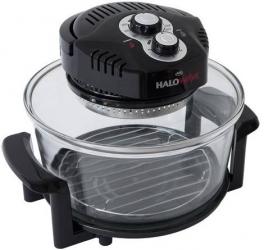 click image to enlarge
Here is one solution that takes little room and can be used from a standard 13amp plug. In actual size it is smaller than a microwave.
The glass container is round at 30cm it is 30cm tall to the top of the control unit and 36cm either side where the stand and handles jut out.
Unlike a microwave that cannot use anything metallic there are no restrictions as to the material you use here. You can even cover the food with metallic foil. You can defrost like with a microwave although this tends to be slower. You can reheat with the same time statement as with defrosting being true.
However as there are two or three levels of food available with the Halowave different things can be cooked together using the same lamp heatsource.
One of the most popular forms of heating is a halogen electric heater in fact I am writing this with one close by taking the chill off me and my office.
The parts that make up the Halowave are the glass lid that contains the heat source and the timing controls etc. You get one high cooking metal rack, one low cooking rack, the glass bowl that the racks fit in, the base and a set of tongs.
Unlike a microwave where the outside stays reasonably cook the bowl and base both get hot so the surface you place it on must be heatproof.
There are two dials on top of the lid one for temperature and one for time. The temperature dial goes from off through wash/thaw and then recognisable temperatures from 125 degrees centigrade in five steps up to 245 degrees centigrade. The other dial starts at off and makes six stops to get to 60 minutes.
To give you some ideas a large 1.6kilo chicken will take just over an hour at 200 degrees centigrade. A 1 kilo piece of beef around 75 minutes at 180 degrees centigrade, while things like Yorkshire pudding take 12 minutes and Oven chips 18 minutes both at 200 degrees centigrade.
The Instructions give three recipes; these are for Macaroni Bake, open Apple Pie and a Fruit Cake. These should be enough to allow you to work out timings/temperatures for other recipes.
For a couple of adults who lead busy lives and mainly eat out this could be a solution to allow them to cook at home on an occasional basis.
Unlike a microwave you can even reheat last night's curry in the foil containers the next day.
I tried cooking a few items in the Halowave and they worked out correctly, remember this is a glass oven so it does get very hot and unlike a Microwave where it is only the contents that get hot here everything gets hot so it is not suitable for homes with young children.
The JML Halowave is available from the link below for £49.99
http://www.amazon.co.uk/gp/product/B00GZRYTSG?ie=UTF8&tag=gadge0a-21&linkCode=as2&camp=1634
They also do a bumper offer for £10 more which includes an Extension Ring to give more space, a frying basket, a lid stand, Halowave Skewers and Frying Pan as well as a Halowave Handbook with extra recipes.