Dualit Coffee System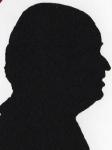 Review controls
Coffee makers seem one of the most popular reviews on Gadgetspeak so when I got my chance to try the Dualit Coffee system it seemed to good a chance to miss. While I prefer white coffee this can make both black and white.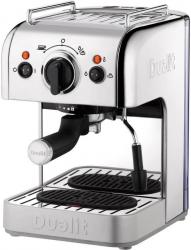 click image to enlarge
Looking at the unit it seems very like a small version of the soft of unit you see in thousands of coffee shops in the UK. It is 20x26x32cm and is of course chromium for easy cleaning. The exception is the back that has a clear plastic with blue tinge and black lid removable water container that lifts out it can contain up to 1.5 litres of water.
Hard wired into the back is a 1metre mains lead. The only controls are on the front near the top these are a rocker switch on the left side of the front with a red LED above it, a three position switch in the centre and a rocker button on the right side of the front with an orange LED above it. There are icons above the larger middle switch that should make it obvious as to which does what.
The area mentioned overhangs the area where the coffee is produced and should you like white coffee where the steam wand hangs.
There is a 28 page well illustrated Instruction Manual that takes you through everything, This coffee system can work with ground coffee or ESE coffee pods as I was not sent any of the latter I cannot comment on their efficiency or taste but they could make cleaning a little easier as coffee grounds do tend to get into corners of the machine.
There is an 18x12cm base area and this tends to get the odd drip from the coffee head and steam wand as well as some coffee grounds however it lifts out and can be wiped clean or washed easily under a tap.
My initial tests with the coffee arm were a little tricky as you need to know exactly how it fits before twisting into position under the overhang. You are warned that this fitment can be initially tight – and it was – but after around a dozen cups I knew exactly what position to present it and exactly the pressure to exert and it did loosen slightly as well.
You are provided with two filter sizes that fit into the head. One for a single cup or shot and one for two shots. The coffee is produced in two streams and it is up to you how long you leave it outputting according to the strength you require.
A stainless steel jug is provided to help warm and froth the milk, when warming just enough for one drink like a Cappuccino it is easier to turn the jug to around 45degrees to keep the steam wand under the milk this not only warms it but creates the froth that makes a good head.
The manual provides 'Recipes' which helps demystify the barristers art so you will know the difference between Cappuccino, L:ate, Mocha and Macchiato. It also explains for lovers of black coffee an Americano, Long Black, Lungo and Risteretto. All appently can be made using the Expresso shot that this machine produces.
The manual also advises that ground coffee will deteriorate quickly once ground – it says three day maximum – and advises you purchase your own grinder so you have the best experience. I had to make do with vacuum sealed pre ground coffee.
So does it make good coffee, probably but when I had only pre ground coffee I cannot be conclusive. I would have liked to try the ESE pods but as stated despite asking these were not sent.
It does froth milk well and I soon got a head as good as a decent coffee shop but of course the cost is a great deal less. I can see – with a grinder – this being popular in a small office environment but it can be a little messy.
The Dualit Coffee system DCM2 (84400) is available from the link below for £153.90 with free delivery.
http://www.amazon.co.uk/gp/product/B008AIS1WI?ie=UTF8&tag=gadge0a-21&linkCode=as2&camp=1634
Packs of Pods are available at £4.75 for 14 also from Amazon as above.
http://www.amazon.co.uk/gp/product/B00A0N6ZOM?ie=UTF8&tag=gadge0a-21&linkCode=as2&camp=1634