Russell Hobbs Breadmaker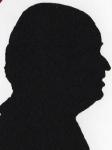 Review controls
With care and a decent recipe anyone can make acceptable bread, the trick with a Breadmaker is that it can work while you sleep – rather like a baker – so you can wake to the smell of fresh baked bread for breakfast.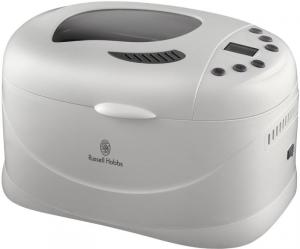 click image to enlarge
I have reviewed a couple of such units in the past, the last two years ago was worth a highly commended. The Russell Hobbs 17887 is currently getting on for 30% cheaper than that so all things being equal it should rate well.
It is 42x26x27cm and weights around seven kilos. It consists of an oven that opens at the top; it has a fitted loaf tin with paddles in the base. All the mixing and proving is done by the machine in the loaf tin. All you have to do is measure the ingredients accurately and place them in the tin in the correct order and leave it to do the work.
On your first outing you will probably make a loaf during the day to look through the Perspex top to see what is happening, only after around 4/5 of the time do you start to get that wonderful bread smell start to permeate.
This is really a family product as the loaf sizes start at 900grams; if that means nothing then a sliced white loaf you buy from the supermarket is 800grams. While the bread when first cooled – yes you do wait for it to cool – it is wonderful with a marvellous crispy crust by day two is ok and on day three you probably want it toasted.
The basic white bread recipe is water, butter (marge will work), salt, sugar, strong white flower, dried milk powder (do not use fresh milk as it will curdle) and dried yeast. So most will probably have all but the strong white flower and dried yeast in the cupboard. This takes 3½ hours from start to finish, so make it at lunchtime for tea.
In the fourteen page instruction book there are two pages devoted to ten different recipes for you to work from. Other instructions are clear but read ahead so for instance when nothing appears to happen when you switch on you know the reason it could be up to 30 minutes until there are signs of life.
To the right of the lid is a small display that shows the time remaining and markers to show your choice of crust colour – light, medium, dark – and size of loaf – 900, 1150, 1400 grams – each of recipes gives amounts for each size.
Above the display are three well marked buttons and below it three more. The right side has a master on/off switch and from the base of the back a hard wired lead 80cm long emerges this is fitted with a 13amp plug, the lead to me was a little short or maybe I just have my plugs in the wrong places.
The loaf tin is 22x12x15cm, the paddles fit onto sockets fixed into the base. A small measuring teaspoon and tablespoon is provided to help with measurement. There is also a fairly substantial wire hook and its use does not seem obvious until you have baked your first loaf, it is to enable removal of paddles from inside the baked loaf.
Apart from the Basic White loaf you can also make a Quick loaf (just over an hour) but even they say its not great, that's honesty for you, French, Rapid, Whole Wheat, Sweet, Dough (for Pizza), Sandwich and Gluten Free, those counting will see that is only nine, the tenth recipe – one which I did not try – is to make Strawberry Jam.
I tried a total of four different recipes over a four week period and I have my favourite. A family will probably have several dependant on their ages. The main reason for a the breadmaker is that someone does not need to get up in the middle of the night to make it, the delay once ingredients are emptied into it is up to 13 hours.
The Russell Hobbs Bread Maker 17887 is available from their site for £69.99 with free delivery.
http://uk.russellhobbs.com/products/cooking-baking/breadmakers/fast-bake-breadmaker-17887.html