Tefal Actifry Family AH900015

The Tefal Actifry Family, lets you cook fried-style food with a fraction of the calorie count. Healthy fried food, made easy.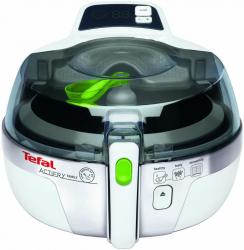 click image to enlarge
Let's face it - we all like chips - don't we? But these days most of us are a bit concerned about the health consequences of munching on fatty, processed foods. The ActiFry range of food fryers is about as healthy a cooking device as you can get. I was expecting some kind of deep fat fryer to review but this piece of kitchen kit bears only a passing resemblance to one of those greasy old heart attack machines.

The ActiFry principle is the same whether you purchase the smaller version or the bigger family one that we are looking at here. It is simple. There is a powerful air heater which churns out thousands of Watts of heat onto the food inside a solid non-stick pan. The air is re-circulated to save energy, improving the efficiency of this stylish unit. As the air blows, the food is stirred and agitated very gently by a cleverly-designed paddle system which turns the food over and ensures an even and uniform crispness for your chips and perfect results for chicken, seafood, sausages, vegetables and more.
Just set the easy-to-use timer and you'll hear beeping when the food is ready; as simple as that. Wash up the pan/paddle in seconds or pop in the
dishwasher and you're done.
As you are cooking in what looks like a non-stick frying pan with a see-through lid, you can also add herbs and spices knowing that they will stay on the food, rather than float away into a see of oil.
Because of the innovative hot air method, a minimum of oil is required. A 20ml spoonful is more than enough to prepare a 1.5Kg of crispy home-made chips! The ActiFry Comes with a hardback family recipe book: "Easy recipes for kids, fun recipes for teens & various recipes for the whole family."

There's even a special card game included for the kids to learn about healthy eating!
We found the Tefal Actifry Family at Amazon for £189.99.