Sony Bravia WE5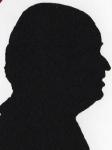 I first saw this at the beginning of the year and only now in late summer did I get to see this environmentally friendly 'green' TV. Strange that it is only available in 40 and 46inch versions, I saw the former, still because of design it takes up little more room than my 32inch model.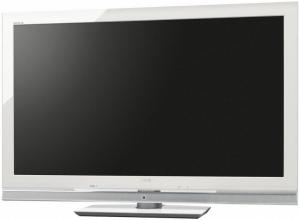 click image to enlarge
The Sony Bravia WE5 (KDL40WE5WU) measures 98x63x11cm (with cables inserted) and the second figure is increased by 5cm should you decide to use the 45x25cm stand rather than take the option to wall mount it.
Do you or your family leave the room without turning off the TV well this has a motion sensor so after a set time (default 30minutes) it turns off the picture, when you return so immediately does the picture. You can also set the unit to go to standby after a set period but then you would need to wait while it starts up again. The beauty of the motion sensor is that you save electricity by having a blank screen but the sound is still there.
As with most recent TV's this is both Analogue and Digital. It is also capable of accepting inputs from external devices and can even accept pictures or music via USB among its other abilities.
When you first get it plug in your aerial and turn on, it should then autotune both Analogue and Digital channels. Remember if you (like me) still have an external video recorder then make sure it is switched on before tuning. So my results the five analogue channels and my video recorder making six. Then onto the digital channels where it found seventy one TV and Teletext channels and 22 radio channels, much the same as other TV's around here.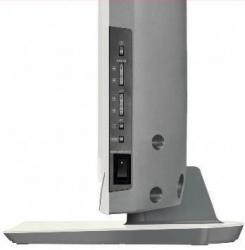 click image to enlarge
As quite often when I get a TV it was brand new so I had to work out how to tune it as the manual was sent later. Unlike most there is not a direct Menu button on the remote but a blue bar Home button that in fact can control everything from its eight in line options Settings, Photos, Music, Videos, Digital, Analogue, External Inputs and Network. The number of options are shown above and below the centre line. I especially like the External Inputs options that highlight only the choices for connected items. For example there are four HDMI options and only the ones that have a cable connected are highlighted a simple thing but it's a nice touch.
The remote control has 46 keys including the ubiquitous five position joystick. Once you have power this can control everything. There are seven buttons on the right side of the TV for the times when the remote plays hide and seek.
As far as I know it is only available in an off white colour and my choice would always be black as the image would always be the only visual, but I suppose the logical colour would be green but then it would mean an awful of lot of colour schemes would clash.
I know that Analogue is dying but this has the best Teletext I have come across. First position has the Teletext on the left of the screen with a 32x23cm screen to the right, the second shows the Teletext fullscreen and the third returns to TV. It seems to log a vast number of pages and sub pages certainly I found everything I wanted very quickly even when it was on page 6 of 13 and I wanted 2 of 13, easy to revert quickly to.
Apart from many hours of enjoyable watching on both Analogue and Digital I tried most of the extra services Photos, Music etc. I also used it extensively with the LG Blu-ray player reviewed two weeks ago.
Doing my Internet searches found the Sony Bravia WE5 at a best price of £988.98 including free delivery from the first link below.
http://www.amazon.co.uk/gp/product/B0027FFX26?ie=UTF8&tag=gadge0a-21&linkCode=as2
http://www.sony.co.uk/product/t32-we-series/kdl-40we5w
The link above has more details of the energy saving achievable.