Dyson DC31 handheld cleaner

The normal household upright or cylinder vacuum cleaner can sometimes be just too large and cumbersome for a small job. Dyson's DC31 meets the need for a convenient handheld machine when one just needs to do a quick clean up.
Buy Now!
Dyson DC31 Vacuum
£129.99 direct from Dyson
including free delivery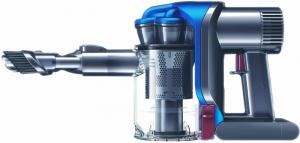 click image to enlarge
Being battery powered and only weighing about 3lb it can be used virtually anywhere around the house or car and, as long as is kept charged, is always ready to go.
The machine is simple and convenient to use. Its has a pistol grip and can be used equally well in either hand. With the brush on its combination tool retracted it can be used on carpets and soft furnishings. Then, with the brush slid to its forward position, the DC31 is then ready for use on hard surfaces. When required, the combination tool can be unplugged and replaced with the supplied crevice tool.
As is usual with Dyson cleaners, it does not use bags which get clogged and so maintains its suction. As the dust collector is made of clear plastic, it is easy to see when it needs emptying. Then, press the release catch and the bottom swings clear to enable the dust to drop straight into the dustbin without getting one's hands dirty.
I found that, in one minute bursts, it well exceeded the claimed 10 minute run time at normal suction -- a level of power which is adequate for most purposes. However, when greater suction is needed to deal with stubborn or trodden in dirt, a touch of a push-button, switches to the higher power mode. I did not measure how long it would run in this latter mode as I felt that the normal power setting would be adequate for most purposes and that one would only switch to the higher power mode as and when needed.
The DC31 is provided with a smart charger. One knows when the battery is fully charged as the green l.e.d. goes out. Hence, one can leave the charger permanently plugged into a wall socket and only disconnect the cable from cleaner when one wants to use it.
Dyson claims that its electronically controlled motor -- which we are told runs at over 100,000 rpm -- is more efficient than that used in other handheld cleaners. Consequently, they have been able to make the machine both lighter and smaller than previous handhelds and yet achieve a higher performance.
At £129.99 -- or £149.99 for the DC31 Animal which has a mechanised brushbar designed to tackle animal hairs which tend to cling to carpets and soft furnishings -- it is not cheap. However, as Dyson aims to produce well designed premium products, the real questions are whether the DC31 does the job it claims to do and whether it is value for money.
I found that it was an effective handheld cleaner and, because it is so convenient to keep charged and to use, I feel that it would be put to regular use and so it would not become a white elephant.