BOSCH Xeo - Universal Cordless Cutter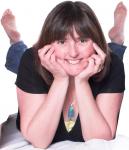 Review controls
Now this is a strange little gadget and one which could prove useful if you need to do what it says in the instructions - cut flexible materials up to 6mm!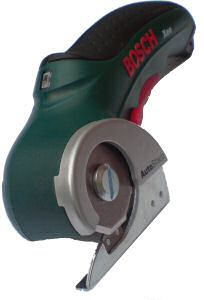 The Bosch Xeo is a hand-held 'universal cordless cutter'. It comes into that category of 'things I never knew I might need until now'. It is very much the sort of thing you might buy for that person who has everything at Christmas. If you are considering purchasing this though, do make sure that it cuts the type of thing you (or your intended recipient) regularly cuts. To review this, first of all I had to scurry around the house to find things that fitted the category of 'up to 6mm' and 'flexible material' to give it a go on. The obvious choices were cardboard, paper, bubblewrap, fabric and carpet. Less obvious choices were those that really did not work - tin and hardboard. You definitely don't want to try this product on tough hard items (even if under 6mm) as it grinds to a halt - to be fair it's not meant to cut those materials I just thought I'd give them a go. The Bosch XEO is light and it is quite ergonomic in that it is easy to hold and use. I must admit to being a little worried about the safety aspects - but I am a little paranoid that way. The press release assures us that it is safe because it has a safety guard and a cut-off. Like any cutting machinery, goggles would be a good idea if you think there is any chance at all of the material being brittle or splintering. To give Bosch their due, there is a very comprehensive list of safety warnings in the manual - and I would recommend reading these carefully before use.
I would definitely have been happier had there been a more definitive list on the box of the kind of materials this product was good at cutting, and the type of materials not to even attempt putting through it. That would aid the purchasing decision enormously.
However, my safety paranoia aside, this tool did cut a nice neat and straight edge through the flexible materials I tried pretty painlessly. I even tried cutting an old school bag that my daughter didn't want and found it did the job. I imagine the person who would make the most of this tool is a craftsperson or carpet fitter. It would be a good replacement to a Stanley Knife for making straight cuts through the materials that it can handle and a robust replacement for materials that are just a little bit too thick for scissors, like cardboard boxes. The Bosch XEO is most useful for cutting straight lines, which it does well. I'm not sure it would work for intricate pattern cuts.
In summary, if you make a lot of straight cuts into carpet, fabric, cardboard or similar materials you might find this easier to use than your current methods. But if you are trying to de-clutter and make your life simpler you might be better off with traditional methods. It's very much a tool for someone who likes to tinker in their shed, and something for people who cut these materials regularly - rather than every now and again.
This product is available from B&Q in September, then Focus, Homebase and other DIY retailers in November 2007. The retail price is £34.99 inc VAT