Mio 300 for Cyclists.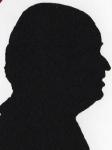 Mio have produced a GPS unit for cyclists rather than motorists, so now we non motorists have a unit that can more normally cope with day to day than trying to adapt a unit designed primarily for the car and lorry driver.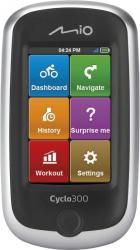 click image to enlarge
When you setup a journey it asks if you are using car or cycle. All the countries of Western Europe are input and for those with powerful legs you can enter a route to include other countries, I settled for short trips in the UK.
It is 11.5x6.5x2cm and weights 153grams. It of course has a fitment to be attached either in a car or cycle, but can be handheld for when you have parked to finish your journey on foot, very useful in a strange town or city.
Designed to be used in portrait mode the viewable screen is 6.5x4cm, but the top and bottom.7cm are taken with instructions. So any map showing is a maximum of 5x4cm but you can zoom in or zoom out without problem.
It has a single control button under the touch screen that will initially turn it on (15 seconds) and eventually turn it off (3 seconds). However this button will also make selections to screen actions according to what screen.
There is a rubberised door in the back to allow you to charge the solid battery by using the supplied mini USB to USB lead supplied.
This is not a couch potatoes device, it does have a car mode, but even at the initial setup you are asked a number of strange questions like your weight. It is a tool to help you become – dare I say it – a fitter individual.
To be honest my bicycle rarely leaves its home but just for this purpose I did get it out for a couple of trips, they were easy enough but in all fairness I knew where I was going. For those of a more adventurous bent there is 'Surprise Me' mode where you just enter the distance that you want to travel and let it decide your route.
I also used it as a pedestrian and this also worked well, a lot of standard sat nav devices say they have pedestrian modes but you are often sent round one way systems something annoying and other less pleasant words.
There is a Quick Start Guide – seven pages in English – but unless you have never used such a device before it should get you going.
After your initial data entry session where you need to enter a code number from the box the maps are available. The next switch on will take around 15 seconds and you are greeted by a 'Home' screen with six colour icons, Dashboard, Navigation, History, Surprise Me, Workout and Settings. The latter has another screen underneath in monochrome – so you know which level you are at – that has a further twelve self explanatory icons.
I found during my tests that even indoors there were at least eight satellites available and often far more than that outside, so the precision placement is normally excellent. Whichever icon you press a press of the button under the screen will take you back to the 'Home' screen.
Having just the one key to accept the option or switch on or off with a longer press means this is an easy product to master. How easy it will be to get fitter is up to you and how hard you work at it, all the information is there if you have the conviction. As a GPS unit for the cyclist or pedestrian who even lapses into car mode on occasions it works, but just like most units the screen is reflective and not always easy to read in strong sunlight.
Doing my searches found the Mio Cyclo300 at £349.99 with free delivery
http://www.amazon.co.uk/gp/product/B00801NVZ2?ie=UTF8&tag=gadge0a-21&linkCode=as2&camp=1634