Tefal Fresh Express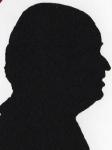 Review controls
Strangely enough I saw this at a launch last year, at the same event the large Kitchen Machine was shown and as that became available first it was reviewed first. Here this little device is for anyone who chops and slices.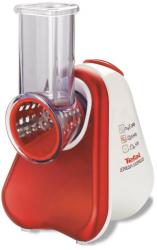 click image to enlarge
The first thing for me is the compactness so ideal for those smaller kitchens. 14x14cm is the base area required with whatever you are catching the output in needing space in front. Assembled it is 28cm tall so it should fit easily on a shelf. The overall weight with a cutter in place is just less than 1300 grams, so not that heavy.
Everyone should eat their 'five a day' and something like this may just encourage those less keen to get their ration via fresh vegetables. Some people happily grab a raw carrot and chomp away I must admit I am not one but if it was grated then I would find this ok.
The business end of the item looks like a mincer with a top that allows you to place items in to be worked through the unit. The front has a range of different sized – and colours – of fittings that can finely dice up to slice.
Now you cannot chuck whole potatoes in or huge carrots as the top piece is only 5x5cm so some initial shaping will be required to reduce larger items. The fresher the item the stiffer it is and the better it works in the machine.
I suppose it works like an electronic multi sided cheese grater. The dark green unit just gives thin slices – ideal for raw potatoes to top a hot pot. Next the red one (15 per side)which gives large shreds – ideal for cheese toppings or such like – next the orange (36 per side) and this gives smaller shreds, onto the yellow (41 per side) these are two sizes so different sizes and shapes produced, finally a lime green one giving an alternate slice.
Both the green units have two blades one each side while the other three colours have the number of holes stated.
The actual engine unit never needs more than a wipe with a damp cloth as the only parts you wash are the twist fitting clear plastic 'L' shaped unit and whichever of the five cone shaped cutting/dicing units that you use.
There is a multi language user guide with four sides in English and this has two useful tables the first stating which vegetables should be used with which cone colour, dependant on what use you are going to make of the vegetable it could be more than one colour of cone that is used with the same vegetable. A salad use will always be finer dice or grating than say preparing onions for a stew.
The second table suggests ways to prepare five dishes which should be enough to give you ideas to expand from.
Few people enjoy preparation and if you watch any cookery show you will know this is the hard bit with adding and cooking the fun bit. Of course you never see the huge piles of washing up from all the bowls they use.
As far as this goes if the items are for a salad they can be grated/sliced/diced straight into the serving dish so the only things to wash up are the pusher, cone holder and any cones you use. Once you have eaten then the serving bowl and your plates.
The motor unit only works when you keep a couple of fingers on the button so you always need to use both hands, this may seem a pain but it is a good safety device especially if you have young children.
Doing my searches found the Tefal Fresh Express at £44.99 with free delivery.
http://www.amazon.co.uk/gp/product/B006ZCU3T0?ie=UTF8&tag=gadge0a-21&linkCode=as2&camp=1634
http://www.tefal.co.uk/All+Products/Food+Preparation/Choppers/Products/Fresh+Express/freshexpress.htm