Braun Series 7, 790cc electric shaver

Published 21 Oct 2010 Author
petew
Although there have been bearded times in my life, like many men shaving is an integral part of my daily routine so I'm always keen to try the latest technology in this area!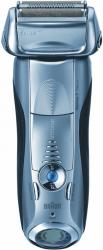 click image to enlarge
The Braun Series 7, 790cc is the latest in their Series 7 range and is of the foil style. To do justice to any shaver review one has to use the product for more than the occasional shave - each shaver is unique and you have to adapt to it's particular style. For the purposes of this review I've been using the 790cc for just over two weeks.
Braun have taken some tips from the wet shaving world by mounting the head on a swivel joint allowing it to follow the contours of the face without quite so much hand adjusting as is usual. For those that prefer to take control though the head can be locked in position. If unlocked the head is free to tilt either side-to-side and front-to-back. I rather likes the moving head.
The head is intentionally kept as small as possible to allow it to reach even awkard places. The most awkward of course being the upper lip, especially if like me you don't have the most petite of noses. The 790cc did however do a good job here and I didn't have to resort to using a separate blade.
Electric shaving has always been somewhat of a problem for me as my beard grows very close to my face. Even with a wet shave I have to "go against the grain" to get a good finish (I sound like I'm decorating!). I'm pleased to report that the Braun did a very good job, although it did take me considerably longer than the equivalent wet-shave. The result was a very close shave with which I was very pleased.
Technically Braun put this success down to a number of innovations. Two separate foils with an central 'cutter' for long hairs are a key feature coupled with 'micro-vibrations'. I can't really comment on the technology, but the results are certainly very good.
Possible the most unusual aspect of the 790cc is it's docking station - no it doesn't connect to your computer so you can plot graphs of your shaving success! It does however have a number of interesting features. Firstly, and possibly most conventionally, being a rechargeable battery shaver the dock provides charge to the device.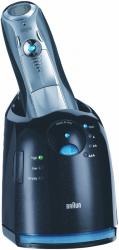 click image to enlarge
Less usual is the Clean&Renew™ system. From the Braun web-site this "automatically cleans, lubricates, dries" the shaver between uses. The base of the docking station accepts a cleaning fluid cartridge containing a light-blue alchohol based liquid. When you drop the shaver into the station (with power applied!) LEDs tell you how badly your razor needs a clean - showing one, two or three drips. As I already mentioned it did take me a while to get a good close shave so after only a couple of shaves the I was told a full cycle was required.
Cleaning is recommended after each shave. In the worst case for a full clean/dry cycle this can take up to 43 minutes. If you are in a hurry then there is a 'fast clean' option The cartridge should last for 30 cleaning cycles when used, as recommended, that is after each shave. If you don't shave every day then the cartridge should be replaced every 8 weeks or so. Checking on Amazon, a pack of three cartridges cost £12.31.
This is definitely a top-of-the range product crammed with the latest in shaving technology and is most definitely aimed at those that take their shaving seriously. With care though a product like this will last you years and so can be seen as an investment. From personal experience as a long standing shaver, the result from this are the best I've had from an electric device.
RRP for the Braun Series 7, 790cc electric shaver is £299.99 however there is a special introductory offer bringing that down to just under £200 from various retailers until the 24th December this year. Amazon for example are selling this for £199.99 including delivery on the following link:
http://www.amazon.co.uk/gp/product/B003VYYV6Q?ie=UTF8&tag=gadge0a-21&linkCode=as2&camp=1634
If you'd like to look at the full technical details for the 790cc then I direct you to Braun's own web-site which contains a wealth of information!