A Samsung Soundbar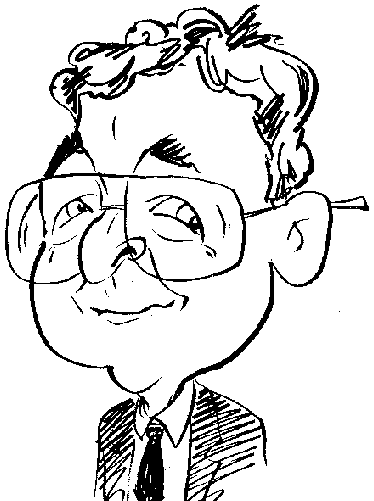 Review controls
When is a speaker not a speaker? The answer could well be when the particular audio output device is called a soundbar.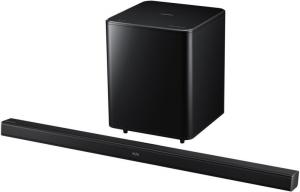 click image to enlarge
The Samsung HW-H550 is a two piece Wireless Audio Soundbar product that consists of the main soundbar element and a wireless active subwoofer. Along with the soundbar and subwoofer units, Samsung has packed various accessories into the box. Here you will find a stubby remote control unit with a couple of AAA batteries, a wall-mount bracket and screws, USB converter for changing the orientation for insert a device, two-piece power lead and adapter, USB lead, AUX cable, Toroidel ferrite core attachment to prevent RF interference with the subwoofer and various items of documentation.
While a fairly comprehensive list of accessories, Samsung has neglected to include certain items which could prove useful. Admittedly the lack of a screwdriver for fixing the wall-bracket should not cause a problem as I cannot imagine too many homes not having such an implement. However the lack of cables for HDMI and Optical connections is another matter. Both these features are supported but you will need to provide the cables when linking the soundbar to various digital devices.
Both the subwoofer and soundbar are matched in a colour scheme that combines matte and lacquered black. The soundbar has dimensions of 943 x 55 x 59.9mm (W x H x D) and a weight of 2.2kb. The solid looking box-shaped subwoofer, with its lacquered black top, measures 290 x 370 x 290mm (W x H x D) and weighs in at 7.5kg.
Arranged in a top central position of the soundbar are touch-sensitive controls for power, function switching and adjusting the volume level. Positioned just below these controls, on the front face of the soundbar, is an LED display providing feedback as to the current status and function mode. This display will automatically turn itself off is no new signal is received within 15 seconds so that it does not cause a distraction to your listening pleasure. To the left of this panel is the remote control sensor. Located at the rear of the soundbar is a pair of HDMI sockets (In and Out) plus others for AUX, Optical, USB and mains power. By comparison the subwoofer is almost totally without any user accessible controls.
Setting up the kit is simplicity itself as you just need to plug in both devices to separate power sources and turn on the soundbar using either the power button or the supplied remote control unit. After a 4 or 5 seconds delay, as the soundbar works through its start-up routine, an automatic wireless connection will be established with the subwoofer. This connection, using the subwoofer's ID, has been preset and worked first time with my review sample. Instructions are provided just in case this procedure does not work as expected. Once the link has been established then the subwoofer will automatically turn itself off when it receives no signal from the soundbar and then powers up when a signal is established later.
With its range of connection options, it is possible to set up links with various devices including a television, tablet, smartphone, music player or any audio device supporting the input options. Currently I am listening to music stored on a flash stick inserted into the soundbar's USB port but it is an easy matter to switch to one of the other function modes such as HDMI, AUX, Bluetooth or Optical. In total this system can deliver 320W of audio split between the subwoofer's 6.5-inch driver and the two 80W speakers built into the soundbar.
Naturally you will want to enjoy the audio output from the comfort on your favourite armchair or sofa. The supplied remote control unit can help in this respect. You can switch this system on/off and cycle through the various function modes. With a television connected to the soundbar, there is a specific TV power button. There are VHS-style controls allowing you to play/pause/stop/skip forward or back plus repeat a track even when the audio is being delivered via the USB connection.
You can adjust the overall volume level and mute the sound if other matters are requiring your attention. There is an option to activate surround sound and apply sound effects designated as Music, Voice, Sports, Cinema and Standard. Other features include adjusting the subwoofer volume as against the overall sound and using the Auto Power Link function whereby the soundbar is automatically turned on in conjunction with a linked television. There are also a number of controls specifically for use with a Samsung television.
Samsung has priced this Wireless Audio Soundbar at £399. While this might seem a tad expensive, you do get a performance and functionality that is value for money even without those leads not included in the package.
http://www.samsung.com/uk/consumer/tv-audio-video/wireless-soundbars/wireless-soundbars/HW-H550/XU