Samsung Soundbar with SubWoofer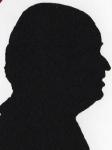 Review controls
After my recent tests with a soundbar from Sandstrom, I am looking at another unit from another manufacturer, this time Samsung and this unit comes with a Wireless sub woofer to beef the bass up even more than the single unit.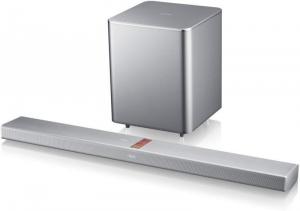 click image to enlarge
While I often think if you need to read the manual the product is more complicated than required. As sometimes happens with test units this did not have a manual and to be honest I was not finding my way round it that well. However I was sent a link to a PDF version and that changed my outlook.
While this is a soundbar it is far more and its correct name is 'Crystal Surround Air Track' Active Speaker System. While setting it up to work as a soundbar was possible with an optional Optical cable you are only using it for one of its abilities.
It is 96x12x5cm and the wireless sub woofer is 37x28.5x28.5cm.
Of course as Samsung make TV's it is designed to work with those, however I used it with one Samsung - recently reviewed – as well as my own. If using it with a Samsung TV the remote can control that as well.
The remote is 14x4x1.5cm and is powered by two 'AAA' batteries. It has 32 buttons including the ubiquitous five position joystick.
All the connections are on the rear of the soundbar in a cavity in the rear with one exception that of a USB on the top of the unit, this will play MP3 files.
The connections are HDMI in, HDMI out, Auxiliary in, Optical in, DC in and ASC this last is for the provided lead and microphone that can sync sound from the TV and the soundbar, this action can also be down from the remote.
It may sound strange – no pun intended – but the soundbar can be used either resting on the narrow side or on the wider side, the latter has two rubber strips but for me that propels the sound up rather than forward. A thin metal mesh surrounds the face (wide) and one side (base).
In the centre of the face there are four touch controls volume up, volume down, on/off and mode change. Which mode and things like volume level show through the mesh in a small window, there is a larger window on the base again showing through the mesh, both these only show for a few seconds after a change.
The wireless sub woofer links automatically once power to both units is provided.
Using either the control on the face of the unit or the remote control you move sequentially through the modes, Digital Optical (D-In), Auxiliary, HDMI, Bluetooth (BT), TV and USB.
So you can link to Bluetooth devices, external HDMI via HDMI or Digital, and MP3 or USB stick apart from just your TV.
Some extra features are available when used with a Samsung TV and I did try these while I had the 40inch Samsung TV recently reviewed and the soundbar certainly improved the TVs one weak point the sound.
However I also used it with my own TV via 3.5mm jack and Digital Optical cable, the sound quality of my TV was improved greatly.
Sound is always subjective and while you of course get deeper sounds in music you also get it in films and other shows, often using just TV speakers you are not aware that sound is even there.
However the higher range is also improved and certain other sounds also appear in dramas so yes a soundbar is a good investment. The front display shows two glowing valves (intensity adjustable) which are part of the amplifier, to me while they do give sound do they need to be seen?
Often things that work together are sold at a slight reduction on their separate prices and a TV and Soundbar combo is worth considering; remember you benefit from DVD and Blu-ray with the right equipment so that cinema sound can be heard in your lounge.
The Samsung HW-F751 is available from the link below for £443.73 with free delivery.
http://www.amazon.co.uk/gp/product/B00BMKEZA8?ie=UTF8&tag=gadge0a-21&linkCode=as2&camp=1634