LG 42inch Smart TV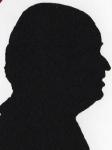 Review controls
While my own TV is a unit capable of displaying HD it cannot show 3D, at 32inches by today's idea of size it is small. So I cleared a larger space in my lounge and here look at a Smart TV from LG that does it all that includes Wireless.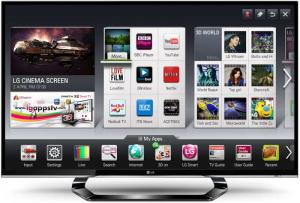 click image to enlarge
I am no superman but moving it around is not difficult as TV's are so much lighter than early LCD unit used to be. As always I start with the dimensions. The screen is 95x56x2cm, it can of course –using a kit- be attached to a wall. However a stand is provided and this is a maximum of 52x25cm and it raises the TV by 7cm.
While this is not the first TV I have reviewed that is 'Smart' it is that I could watch via Wi-Fi for prolonged periods without noticing any difference from a standard TV broadcast and while my connection is not really fast it is fine for this purpose. These days as most will know BBC have given up one of their two 'Red Button' channels and while the other is still working often they seem to put items on it rather than the live feeds. These feeds now come from the website and while you can watch them on a PC the arm chair is more comfortable.
This unit comes with two remote controls. The first with fifty buttons and the second for those occasions when you need to highlight or move to a specific part of the screen this is called a 'Magic' remote and it has nineteen buttons, however if you think of it more as a mouse you understand its purpose rather quicker than a remote.
I have been lucky enough to have this unit for more than the normal couple of weeks and to get into all the facilities it is needed. It is a rather nice TV with good sound, however the top level may be a little low for some conditions and very vibrant picture quality to suit almost all conditions. Most now can be used to display images from external media both moving and still and this can do so even without the network.
There are two books with it, a 48 page Owners Manual that sadly does little more than detail assembly, describe the remote controls and explain the possible frequencies. In some ways the six page Quick Setup Guide is more helpful but this concentrates on setting up DLNA, Wireless and Wired connections with good illustrations.
Once connected there is as much help as you need from the various screens in the 'Smart' part of the TV itself.
The rear connections are all on the left side in an 'L' shape with the exception of the hard wired mains lead that is just left of centre. On the down stroke three USB sockets split by a PCMCIA card slot then four HDMI slots. The rest of the controls run along the base of the 'L' shape. Ethernet, RGB, AV, Aerial and Digital. All the connections are clearly marked on the TV but given that most will be trying to connect from the front a page in one of the manuals showing the layout would be helpful if only to show the direction of connections.
So apart from this being a rather good Freeview + HD TV it is also a unit that connects to the outside world and all the modern apps. You can of course use it for basic web searching and extra apps provided by LG.
This unit also has 3D and in fact four pairs of glasses are supplied with the unit so it can be watched. This 42inch unit was a test for my lounge and trying to see how up to four people could watch at once it is possible. The one point I am not entirely convinced about is 3D itself and the few broadcasts currently done by the BBC. However watch one natural history program like the recent 'Africa' series and you will be convinced about both HD and this TV.
I liked the TV, enjoyed the ability to watch things from the web full screen as if they were standard TV broadcasts. It matters not if you use Ethernet or Wireless both work very well, the amount of USB and HDMI should be enough for anyone without having to swap cables about. 3D could be down to me as I have seen lots of demos by various companies and I am not convinced.
Doing my searches found the LG LM660 at £718 with free delivery.
http://www.amazon.co.uk/gp/product/B007IYW5HC?ie=UTF8&tag=gadge0a-21&linkCode=as2&camp=1634