Gear4 AlarmDock Halo2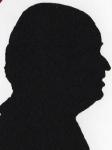 This is an 'i' dock but it can and does do far more. It has a built in FM Radio and clock with alarm it also has a sleep countdown timer so although it does support most 'i' devices everything mentioned in this sentence is built in.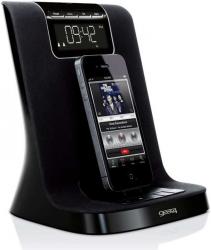 click image to enlarge
The Gear4 AlarmDock Halo2 measures 15cm wide, 14cm deep and 18cm tall. The depth is only for the first 2cm – base – the top with the display is only 3cm in fact it is an 'L' shape with the front being the lower corner and you are looking above any 'i' device at the back.
It is even more intelligent should you have more than one iPod Touch or iPhone using a free app available from App store.
There is a User Manual with the first eight pages in English and that tells you how to do all mentioned above.
On first connection as the dock only has FM it will not automatically pick up the current time. You can set it by using the controls or download the Gear4 App to your iPhone or iPod Touch from the App store which takes less than a couple of minutes and then things like time are setup plus a rather swish looking display on your 'i' device.
There are four touch buttons on the base of the display, Music, Clock, Radio and Settings. The Clock asks your permission to use your location and you then get an animated display showing weather and temperature as well as a digital clock and the date. I think what the other three options do is probably self explanatory to all.
However even without your 'i' device this dock has its own radio, clock and alarm so it is not just a dumb speaker.
The normal controls for your 'i' device are in the centre of the base just in front of the dock. These are a row of five volume down, track back, play/pause, track forward and volume up. You can also use the controls on your device while it is docked; charging is also taking place while docked.
To the left and right are the speakers giving an improved sound on what you get from your device, the volume level is also increased and the bass increased a bit.
The display shows above your 'i' device and is made up of white dots to show the time and day. The time is eleven dots high and seven wide, this leaves space for AM/PM and what mode you are in to its right and the day of the week below.
The rear has a recess with Auxiliary in, wire aerial and DC input, the power lead is 1.5metres ending in power brick/plug.
The modes available are iPod, FM and Aux. If you have your iPod inserted and you change the mode the iPod is paused.
I have several of these devices that are really just a speaker dock as without the iPod in place they are dumb. Here you have a working clock, radio and alarm even without your iPod. The free app gives a classy display so you can wake up to tracks from your 'i' device and a large clock display on both your 'i' device and the dock you also know the current weather for your area without having to get out of bed and open your curtains.
So this device is a dock and speaker itself as well as being a holder and charger for your iPod Touch and iPhone.
Doing my searches found the Gear4 AlarmDock Halo 2 at £79.90 with free delivery.
http://www.amazon.co.uk/gp/product/B005WGCN70?ie=UTF8&tag=gadge0a-21&linkCode=as2&camp=1634