Toys & Games 7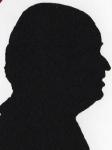 Review controls
Ravensburger one of the biggest name in jig saws are always a hit at Christmas and not just with the kids, here I am looking at a pair of offerings featuring favourite pets in large quantities, Dogs in one and Cats in the other.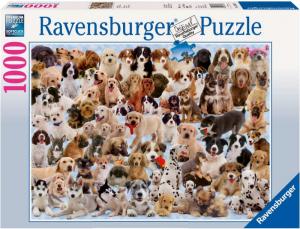 click image to enlarge
Dogs Galore 15 633 7
When you try to count the number of dogs in an image – several times – and keep getting a different number you either give up counting or you go very strange, I did the former and found completing the jigsaw quite therapeutic.
This is a 1000 piece puzzle that has somewhere near to one hundred dogs on it, quite a lot of Labradors some German Shepherds, Huskies and several Dalmatians, not being a dog expert I will stop there before my limited knowledge lets me down.
Every time you look at the image of the puzzle you see something different, there is a great deal of brown cream and white and if there are close to one hundred dogs there must be double that number of eyes. A few dog toys and probably around twenty tongues and very little of the pale blue background to help you to solve it.
I found this both enjoyable and challenging and certainly something those of a certain age like me would be sure to enjoy. Of course the photos by Jane Burton have been made into the large image you certainly could never get this number of dogs all to be facing toward the camera at the same time and certainly some would object to their neighbour.
The image is 70x50cm and as with all Ravensburger puzzles the pieces are beautifully cut to give a perfect fit.
I found Dogs Galore at £9.99 including free delivery from the first link below.
http://www.amazon.co.uk/gp/product/B0002HWFZ4?ie=UTF8&tag=gadge0a-21&linkCode=as2&camp=1634
http://www.ravensburger.com/united_kingdom/products/adult_puzzles/1000_piece/dogs_galore_15633/index.html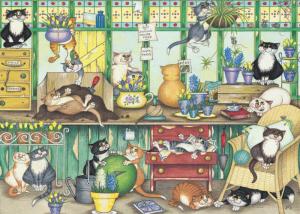 Cats In The Garden Room 19 286 1
This is not the first – and probably not the last – in the Crazy Cats series that I have spent many a relaxing hour completing, here unlike the puzzle above I can be sure of the number of cats in the image, it is eighteen. I can also be sure that none of them is anything other than a moggie with not a pedigree to be had anywhere in the image.
A somewhat easier puzzle as there is the line of the bench, the window frames and most of all the vary coloured cats to help you build the image up, this is taken from an original image by the artist Linda Jane Smith.
A delightful note on a window frame says 'Buy String, Mouse Food' I would have thought with eighteen cats no mouse would be seen near the Garden Room. Still as none of the cats in the image is anything like a real cat maybe they are all vegetarians!
The image of this 1000 piece puzzle is 69.9x49.7cm and will be certain to make anyone doing it smile, looking at the site it is given an age rating of 12+ like the puzzle above but I feel anyone doing this would be in far more mature category and certainly either would make a great Christmas present for an aunt or uncle of a certain age or even a grand parent, so give them a break from hankies, bath salts or even dare I say ties and buy them a jig saw.
Doing my searches found Crazy Cats In The Garden Room at £10.78 with free delivery.
http://www.amazon.co.uk/gp/product/B004FPYKNO?ie=UTF8&tag=gadge0a-21&linkCode=as2&camp=1634