Industrial-type Labelling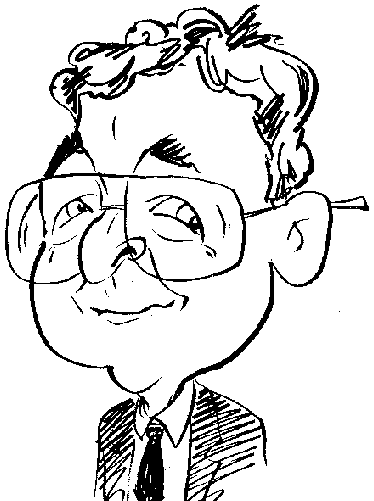 Review controls
Named after an animal, Dymo's latest handheld labeller may not be a beast but it is ready for some heavy duty work.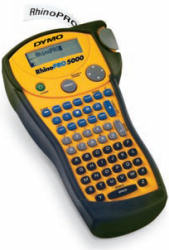 In the past I have looked at a number of dedicated label printers whether of the handheld or desk-mounted variety. Every one of these models, the Brother QL-650TD apart, have been aimed at the home user or office worker who has a need for labelling facilities for envelopes, folders and general household usage. There is, however, another category of user and that is the industrial user. Aimed at this particular market sector is the Dymo RhinoPRO 5000 offering.
Designed to produce professional quality thermal transfer labels for cables, panels and other types of equipment, the RhinoPRO 5000 is Dymo's top-of-the-line portable handheld model for industrial use. The light orange coloured unit comes with its own tight-fitting black rubber sheathe for giving protection if dropped in the work environment. The sheathe gives clear access to the various controls and can be removed. In fact you will need to remove it in order to insert the six AA batteries, which are not supplied, that are required to power the device. There is also a socket for connecting an optional mains power lead.
As mentioned earlier, this device uses thermal transfer technology to create labels on adhesive tape. This method does mean you end up with a certain amount of thin black carbon film which will need to be disposed of at some stage. The RhinoPRO 5000 supports ?", ½" and ¾" tapes in white or silver constructed of flexible nylon or permanent polyester. A ¾" black on white flexible nylon label cassette formed part of the package.
Headed by power, print and a navigational compass wheel, the RhinoPRO 5000 keypad is divided into three distinct sections of different colours. At the top are the blue control, symbol and function keys. Taking the middle position are two rows of grey numeric keys. Finally there is the black alphabetic keypad.
The 55 x 15mm LCD will display feedback regarding label information and content plus the battery status. Along with five font sizes, ranging from extra small to extra large, you have access to an extended symbol set; international characters; and a small number of electrical and datacom symbols. While the electrical and datacom symbols have been assigned their own keys as part of the blue set, the extended symbol set needs to be selected from the LCD display using the navigation compass wheel. Up to eight labels can be saved and recalled whenever needed.
As well as standard type labels, the RhinoPRO 5000 can produce labels for specific types of industrial jobs. Labels can be produced with horizontal or vertical text. A wrap-around label can be created for use with cables or wire. When space is an issue you can define the actual length of label to be created. Other types of labels that can be produced with this handheld device include patch panel labels, to identify a set of ports, and barcode labels. You can print up to 99 copies of the same label and include a serial number or letter to each one. Up to four lines of text can appear on a label, with the font automatically adjusting itself to fit, although only two lines will be shown on the LCD display.
The RhinoPRO 5000 is not a device that will suit everybody. However if you need a tool for labelling electrical components and datacom elements then this handheld device can serve a useful purpose with its ability to produce professional quality labels is a quick and efficient manner. The RhinoPRO 5000 is currently available at £99.99. Replacement tapes will cost £10.99 for flexible nylon and £13.99 for permanent polyester.