Sony Ericsson W910i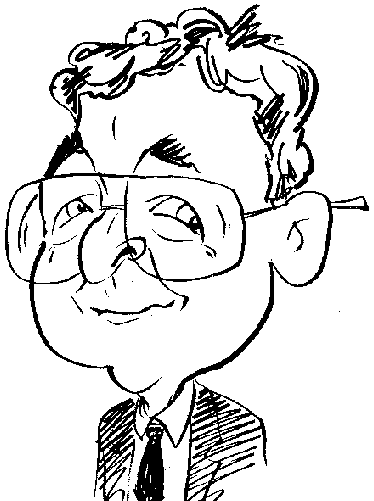 With the familiar orange "W" logo, there is no mistaking the W910i handset as being anything but another member of the Sony Ericsson family of Walkman phones.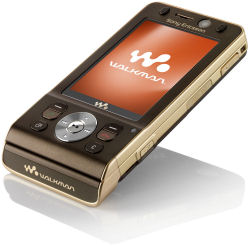 Tastefully decked out in Noble Black or Heart Red (who thinks up these colours), the W910i is a slider-type phone. It has a display that certainly grabbed your attention. Taking over most of the front area, this 2.4 inch TFT screen is capable of showing 262K colours in 240 x 320 resolution presenting a clear and sharp display.
Located just below the screen are a series of control and navigation options. There are keys to call, end and select items plus access an activity menu for events, running applications, shortcuts and the Internet. A four-way navigation pad is positioned between these keys allowing you to move between menu items and Walkman controls. Positioned over the top of the screen are a couple of buttons which switch their functionality depending upon the current mode. They can be used for controls within games or for selecting camera shoot or night mode.
Arranged along the right edge of the handset are rocker keys for volume/zoom adjustment, a camera key plus a slot for a Memory Stick Micro card. A 1GB card is bundled as standard. On/off and Walkman specific keys are found on top of the handset which I found rather small and difficult to make a reasonable contact.
The phone's slider action is both smooth and responsive. Once activated, it reveals a keypad that is flush to the body of the phone. A backlight helps with selecting keys while a dimple on key 5 helps when locating appropriate keys by touch alone.
The unit's camera, located on the back of the handset, is a two-megapixel model with 2.5x digital zoom. This is rather basic when compare to some of the phone's other features. There is no flash with the camera or a mirror button for taking self-portraits. However you do get an anti-shake feature.
The W910i makes use of accelerometer or motion sensing technology to sense the orientation of the handset in certain circumstances. When lining up a scene for capture by the camera, this feature allows you to turn the handset in 90 degree increments for a full circle in either direction. Switching to viewing photos or using the Walkman-based features, this orientation adjustment only applies when turning the screen anti-clockwise and only for 180 degrees.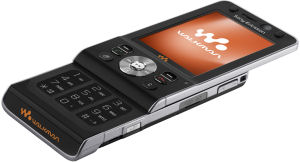 Also built into this handset is a Shake feature which works with the motion sensing capabilities when playing certain games or for changing tracks in Walkman mode. One of the games supplied with the phone is Marble Madness 3D and is controlled Wii-like by moving the handset. Holding down the Walkman button, while simultaneously flicking the handset either left or right, allows you to move backwards or forwards through available tracks. I found this latter feature rather difficult to master in order to achieve the required effect.
All the standard tools and functionality we have come to expect from out mobile phones are supported. A font-mounted VGA camera provides video calling capability while SMS and MMS are available for texting. The phone's Organiser contains an alarm, phone book, calculator, calendar, notes and stopwatch features amongst others. There is support for HSDPA, for high speed downloads, plus Bluetooth and USB connectivity. Also included in the package is a USB adapter that can allow you to access data on the supplied memory card using your computer.
The W910i is rated at providing 9 hours of talk time and 400 hours on standby. Weighing 86g and measuring 99.5 x 50 x 12.5mm, the W910i should be available free as part of most contracts while those preferring the SIM-free or pay as you go route should be able to purchase this handset for around £260.
http://www.sonyericsson.com/cws/products/mobilephones/overview/w910i?cc=gb&lc=en