Toys and Games 2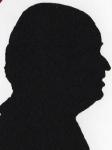 Review controls
Yes I am well aware that September has only just dawned, but with the recession now biting hard those presents need even better planning and so the sooner you start…. Here two more items seen from a recent event.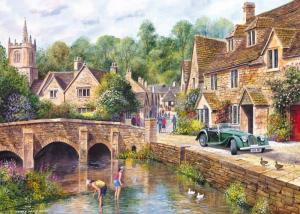 click image to enlarge
Here I am looking at presents that may appeal to the older members of the family with a couple of jigsaws not this time from Ravensburger but here from a British company Gibsons who have been making quality puzzles for many years.
Two puzzles to remind people of the way things were first a delightful unspoiled view of Castle Combe and second Grandad's Workshop perhaps as seen through the eyes of a child who has now become a Grandad himself.
Castle Combe by Terry Harrison
I could find no age mention either on or in the box, certainly with 1000 pieces it is not going to suit a young child and in all probability even an older child would not be interested as it has 'old fashioned content' as the subject.
I am of the age group that can remember the sports car shown in the image as well as having a tiddler net to go fishing with, certainly people of my generation will enjoy recreating their youth completing this challenging puzzle.
The image is 19x27inches that's 486x680mm, the back of the box contains a short biography of Terry Harrison the artist and also details of Castle Combe the village it shows but it could be one of thousands of such villages in a time of maybe 50-60 years ago with the country just about back on its feet after the Second World War.
The box contains a Gibsons puzzle catalogue and a rather interesting slip of paper about Warranty which just for once is not the normal terrible legal language but just simple instructions should there be a problem with the puzzle.
Castle Combe should be available from dealers all over the UK I found it on the link below for £10.86 with free delivery.
http://www.amazon.co.uk/gp/product/B004GUSVXI?ie=UTF8&tag=gadge0a-21&linkCode=as2&camp=1634
http://www.gibsonsgames.co.uk/product.php?id=634&aid=22
Grandad's Workshop by Michael Herring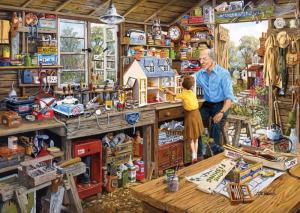 click image to enlarge
In a way this may even take the recipient back even further as I barely remember my Grandad who died when I was very young but I do have vague memories of something rather like what is on show in the illustration.
Certainly some of the content would have come from pre World War Two and that in itself is a happy time for some.
The puzzle is the same size as the one above, it also has a Gibsons puzzle catalogue and the charming warranty slip with what to do should there be a problem with the puzzle and a plastic bag with the 1000 pieces in.
The slip even states that each puzzle is cut out individually so no two similar puzzles are likely to match totally.
I had great fun completing both puzzles and just looking at them brought back memories long lost in the mists of time so if your Grandad is of a similar age he would probably love to try his hand at this sort of puzzle.
As with the puzzle above Grandad's Workshop should be available from dealers UK wide I found it online for £12 with free delivery
http://www.amazon.co.uk/gp/product/B004GUSVK6?ie=UTF8&tag=gadge0a-21&linkCode=as2&camp=1634&creative=6738&creativeASIN=B004GUSVK6