5inch eBook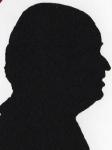 Review controls
This does not use E Ink and has a conventional colour screen; however it is very readable even with small typefaces. It can also play some videos, audio and show JPG images. It has both internal and external memory in a small footprint.
Buy Now!
Imagin Colour Screen eBook Reader
£99.99 including free delivery
from Firebox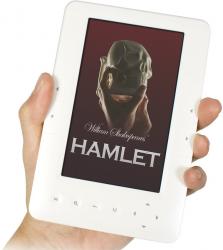 click image to enlarge
The Imagin Colour Screen eBook Reader measures 15x10x.5cm. It weights 165grams; the viewable screen is 6.5x11cm. It has a total of twelve touch buttons.
The only other connections and controls are on the bottom these consist of mini USB (to charge and transfer) a tiny on/off button, micro USB slot and a 3.5mm socket so you connect a pair of earbuds or headphones for private listening. However for use on the desk beside you the back of the unit has a perfectly good loudspeaker.
Once you have pressed the on/off button (hold for three seconds) the front screen is Browser History, eBook, Music, Video, Photo, Explorer and finally Settings. Touch the down button on the four position joystick control. When you enter any menu the back button (third of four along the bottom) takes you up one level per press.
The Reader has a very clear font even in a small size, my eyes are not brilliant but the backlight gives 32 lines of clear text easily read at around 30cm away. That is called the 'extra small' font, the next size up 'small' gives 28 lines of text, 'medium' gives 24 lines of text, 'large' gives 20 lines while 'extra large' gives 16 lines of text. Below this whatever size of font you choose there is the name of the book the page number and time and battery state all on the last line. It reads several formats and of the various types I have seem it interprets .PDF files best of any as most others seem to struggle with multi columns formats, where this just shows part and moves across when required making the result a readable one.
Music was good I found no problem with any MP3 file I tested, there is a good range of sound which can be amplified when required by increasing the volume, of course the volume level is limited when played through earbuds.
Video was far more hit and miss it gives a range of video formats it should play, I except that MP4 is just a container for a range of formats that means some play and some do not, however as far as I am aware the same restriction does not apply to AVI but again some played and others just gave an error message, not that helpful.
As far as Photos go, I managed to show all my JPG files but it did not seem to offer the ability to rotate so files only appeared the way they were captured, however, you could zoom in so what was a landscape image shown in a portrait mode with near 3cm blank above and below can be zoomed in to show most of the image with only .5cm blank above and below. Other units can rotate so why not this one?
Finally the Settings option seems to have lots of choices but they are to me totally cosmetic and actually do very little, for example while you have time and date, you cannot do anything with it like a calendar or alarm function.
So music good, e-book good all the other features are rather hit and miss and I found the controls took time to get used to and while they do what they should be aware that the battery runs down fairly quickly and when it still shows two bars it is almost empty and that means that the controls become sluggish and non responsive.
Available from the link below for £69.99 (stated as 30% off)
http://www.firebox.com/product/2843/Imagin-Colour-Screen-eBook-Reader