Xsight Touch Remote Control

Published Nov 12, 2010 Author
petew
Review controls
For some years there has been a growing market for replacement remote controls for audio-visual products - usually cramming the functions of many separate devices into one easy to use replacement. The Xsight Touch Remote Control from "One-for-All" is the ultimate example of this genre.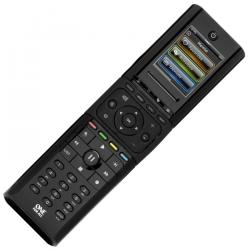 click image to enlarge
The unit has a very good, quality feel to it with a good weight. The lower two-thirds resemble a standard remote controlwith function and navigation buttons. The top third contains a touch-sensitive LCD touch screen.
While most remotes will happily work for months or even several years on a couple of AAA cells a device with touch screen is going to need more umpth. Recognising this the Xsigh Touch comes with a long-life Li-Ion battery. Charging is achieved through the provided docking cradle. In theory this also give you a safe place to keep the remote so it doesn't disappear down the back of the sofa. On the other hand.....
There is no manual provided with the device except for a short getting started fold-out pamplet. In practice even this is not required.
The first time you use the remote you are guided through a setup wizard, including a chance to configure the remote for common devices. Configuration is done almost entirely through taps on the touch screen. Selecting TV gave a list of the main manufacturuer - I selected Samsung for my TV and was then taken to a screen where you run through a sequence of test to determine which Samsung you have. My device was chosen on the first test (5+ year old LCD TV). No need to find/enter codes - it just worked.
Next came my Virgin Media box - again Virgin was in the list of set-top boxes. Despite there being potentially 14 tests, my very new Virgin box was correctly chosen the first time.
The next test was more of a challenge. My daughter has a £10 pink DVD player originally purchased some years ago from Superdrug. There is very little identifying information other that that it's a "Roco Electron". Roco is not listed under DVD manufacturers on the setup screens. In this case rather that build a very complicated interface onto the remote itself you instead get to make use of a USB connector and some user-friendly software to install on your computer.
Once installed the software took the opportunity to update the firmware on the remote itself. Then you are given a more comprehensive product list but still no Roco. At this point your option is to help the Xsight to 'learn' from from the existing remote for the device.
In total the Xsight Touch understands 12 different types of device. As well as the usual TV/DVD/Set-top box is also supports audio CD players, amplifiers, PVRs VCRs (remember those?) and "Digital Media". Closer inspection of the later revealed the device capable of controlling Windows Media Center (assuming your computer has suitable hardware) and game stations.
Having a nice touch screen is a waste if all it lets you do is let you select the device you want the rest of the buttons to control. The Xsight makes the most of this facility to provide: Favourites; Profiles; Activities.
Favourites are fairly easy to understand - allowing you to build a list of your favourite six stations and have these displayed instantly on the touch screen. You can add up to 72 favourites in which case you can scroll through the list. The challenge of course is finding even six stations you'd actually consider adding to this list!
While favourites is a great idea, it's a bit limited. Mainly because my favourite stations (BBC1, BBC2, ITV1, Sky etc) are not those of my daughter (MTV and a whole bunch of mainly music channels. Each of you needs your own list and this the concept behind 'profiles' - a profile for Dad and a profile for each of my kids. Simple!
Activies allow you to record a sequence of commands and to specify which group of buttons on the remote control which device. For example I created a 'Watch TV' activity. When we watch TV the channels are selected through our Virgin cable box but the volume is controlled by the Virgin box. Watching a DVD on the other hand requires some of the buttons to work the TV and others to interact with the DVD player. Activities allow you to record this preference effectively as a 'mode'. The controls are split into 9 groups - each of which can be assigned to a different controlled device.
The Xsight Touch is a serious remote for the serious entertainment fan - it's capable of controlling 18 separate devices aftr all! It did however fair very well with those that we do have. Having used other multi-function remotes I was particularly impressed with the ease of configuring the Xsight Touch to manage our devices.
The Xsight Touch remote is available from many outlets. The manufacturers web-site (One for All) directs interested parties to Amazon where I see they currently have it available for £98.70 including free delivery:
http://www.amazon.co.uk/gp/product/B001TQMEXK?ie=UTF8&tag=gadge0a-21&linkCode=as2&camp=1634
For information from the manufacturers website use the following link: