Veho Mini Speaker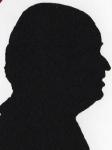 Review controls
A small circular shaped speaker that can be connected and powered from any PC with an audio out socket and USB port. However it can also (via USB) be connected wirelessly and with a charged battery with USB power.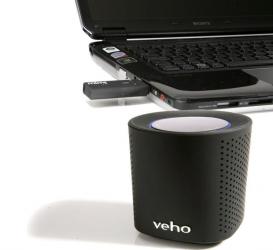 click image to enlarge
It is 7cm tall and both 8cm wide and deep; it is a matt black rubberised material and should handle the odd knock or two.
First if you connect via a 3.5mm jack the lead supplied is 66cm long. If there is no power in the internal battery then you will also need a USB port for power and the supplied mini USB to USB lead is 75cm in length.
Should either or both of these leads be required they both plug into the unit at the back near the base. The only other controls are on the top with has a slightly rocker based shiny top where internal light can shine through. Press it where it says power to turn it on or off. Press volume – to decrease volume and press volume + to increase the volume. Either side of the unit are the stereo speakers of the unit with 16 columns and ten rows of small holes that allow the sound to penetrate through the rubberised material that covers the unit.
However using it wirelessly will probably be more popular the wireless sender fits in any USB port (6.5x2.5x1cm) and you may need to pair it with the speaker and once done whenever you want sound you only need to turn the unit on by touching the power switch on the top and just sit back and listen to the output.
There is a four point A5 sheet of paper with point one being both preparation and use. Point two being troubleshooting. Point three specifications and point four accessories available should you want or need them.
While the text on the A5 single side Quick Start Guide it is surprisingly a little larger for the 24 page User Manual however when I tell you that the manual is 7x7cm you will realise that it says little that is not on the Quick Start Guide.
The speakers are stated to be 1.5 watts each but for anyone using it with a notebook they will probably be a vast improvement on what is supplied by the manufacturer who often seem to place them in very strange places.
While I only tested them with XP, Vista and Windows 7 they are also stated to work with 98SE and ME as well as MAC OS 9.x and later.
As with all wireless devices the claimed distance is always 'may vary' and distance given is 'up to 50metres in an open field'. Not having a field nearby I used it my place and when in my kitchen the speaker worked as far as the end of my garden. When in my office it worked as far as outside my front door around 12metres and through four solid walls.
I liked the Veho mimi being able to use it either as wireless or plugged in is nice, it is small enough to go wherever you do. It comes with a solid rechargeable battery and it is charged by attaching the supplied mini USB to USB lead to anything with a USB port.
Doing my Internet searches found the Veho Mimi at a best price of £32.99 including free delivery from the first link below. Mine was black but it looks as if they do it in white as well.
http://www.amazon.co.uk/gp/product/B002JC78G6?ie=UTF8&tag=gadge0a-21&linkCode=as2&camp=1634
I found the Veho Mimi available for $52.95 including free delivery from Amazon on the first link below. Mine was black but it looks as if they do it in white as well.
http://www.amazon.co.uk/gp/product/B002JC78G6?ie=UTF8&tag=gadge0a-21&linkCode=as2&camp=1634