EyeTV DTT Deluxe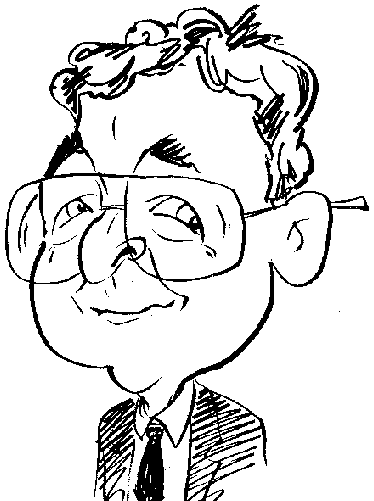 Review controls
Probably better known to the Mac fraternity, Elgato has recently made moves designed to raise its profile in the Windows marketplace with the release of its EyeTV DTT Deluxe product. This is a television tuner that will work on both the Windows and Mac platforms in conjunction with software developed by Terratec.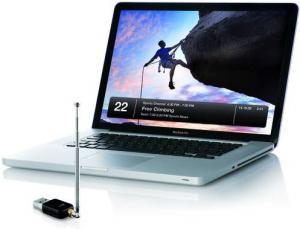 Having looked at a number of USB television tuners in the past, my initially impression of the Elgato unit was related to its size. It is definitely the smallest television tuner I have seen and is well qualified for its Micro-Stick designation noted on the product box. This USN stick measurements are 57 x 17 x 9mm (L x W x D), making it a little larger than nano size but small enough not to cause any problems when positioning the stick on even heavily populated array of ports.
Included with the USB micro-stick are a couple of aerials. The smaller of the two is the extendible type that screws directly into the tuner unit while the larger aerial is of the tilt / swivel variety and comes with a permanently attached lead that screws into the tuner. The larger aerial can be free-standing using its magnetic base or, by attaching a supplied suction pad, mounted on a suitable surface such as a window. You also get an adapter for connecting a roof-top aerial which, in most cases, will be the preferred option for optimum reception and channel recognition. A USB extension lead, remote control and software CD complete the package.
As the package claims compatibility with Windows 7, I decided to check out the product using Microsoft's latest Windows platform. As part of the installation you are required to enter a 26-character serial number and are given the option of a complete or custom set-up. There is also the opportunity to create a TVTV account, which is free for the first year, and provides the EPG (Electronic Programme Guide) element of the package.
At the conclusion of the installation process an error message appeared. This indicated that, despite the claim mentioned earlier, one of the DLLs necessary for the remote control was "not designed to run on Windows or contains an error". While this did not affect the other aspects of the program, it did mean that the remote control failed to work and the message would appear whenever Windows and/or the program was launched. Switching to a Windows XP system cured the problem so this does appear to be a Windows 7 issue rather than all Windows platforms.
Depending upon your television set-up, the EyeTV DTT Deluxe system can be set to scan for and work with either scrambled or free-to-air channels. As mentioned earlier, Elgato includes a couple of aerials but with either of these attached I was only offered 29 television channels and 22 radio stations which did seem a little on the miserly side. As a result I attached a rooftop aerial which responded by detecting 67 television channels, a big improvement, and a slight increase in the radio stations with 25 hits.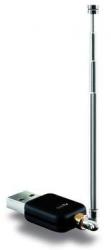 click image to enlarge
Specific folders can be set to hold recordings and any still images you capture. You can change the order of the channels and edit their designated names. When viewing programs, image quality is far better with a roof-top aerial, you can switch between channels using the up and down button on the Home Cinema interface or by selecting the appropriate channel from a listing displayed as part on the Context menu which appears following a right click on the interface. There is also the option of using the remote control but, as I have already mentioned, not when operating under Windows 7.
Various options are available for the viewing screen. You can opt for 4:3, 14:9 or 16:9 aspect ratios with further options for original, cropped or stretched screens. There is even a PiP setting whereby you can have a small window showing one channel while watching another in full screen mode. The software will automatically create a list of the last and most watched channels.
Programs can be recorded instantly or form part of a schedule using the EPG facility. This guide allows you to view programs by channel, time or your favourites. When setting up a recording schedule you can select from various commands that will automatically run once the recording has been completed.
While the EyeTV DTT Deluxe could well be regarded as a portable device, you have to remember that the range of channels will be most likely reduced when using the aerials that come with the unit. You could also find that picture break-up will mar your viewing pleasure. You really need a fixed roof-top aerial to get the full range of channels and best performance.
Maybe due to the product's close affiliation with the Mac, the EyeTV DTT Deluxe comes with a price ticket of £79.95 which could well put off many prospective Windows users not withstanding the problem I encountered when running this device under Windows 7. System requirements call for a 2.00GHz processor and 1GB of RAM running Windows XP SP2, Vista or Windows 7. Mac users will require a PowerPC G4/G5 or Intel Core with Mac OS X v10.4.11 and later.
http://www.elgato.com/elgato/int/mainmenu/products/tuner/DTTdeluxe09/product1.en.html