A New Archos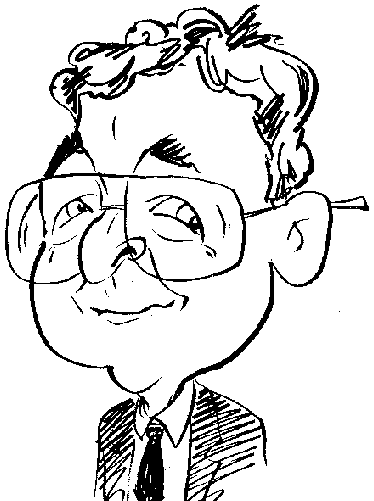 Review controls
And you shall have music and video where ever you go could well be the theme for various pocket size devices currently appearing on the market. Joining the ranks of these types of products is the Archos 3 vision.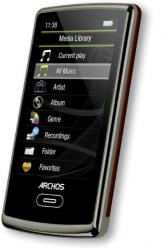 With its black and silver trimmed fascia, the Archos 3 is available with a choice of metallic red or chocolate backing which does displays a warning regarding possible hearing damage due to excessive volume levels. Weighing just 63 grams and having dimensions of 95 x 52 x 9mm, this media player can fit easily into a pocket without causing an unsightly bulge or weigh you down. I would suggest that you make sure you have some form of cleaning cloth readily available as this device is very susceptible to finger smears. This problem is exacerbated due to the vast majority of commands being activated direct from the unit's 3-inch 400 x 240 pixel touch screen which dominates the front of the device. Even with the minimum of use, the screen quickly became defaced with evidence of finger contact.
As mentioned most of the user interaction is via the touch screen. The only exceptions are a Back/Escape touch button positioned below the screen and a slider on/off/lock switch on the base of the unit. A mini USB port and standard 3.5mm audio jack sockets are also found on the base. Both a USB lead and set of earphones are included in the package along with a folded basic User Guide.
Archos 3 vision's opening screen divides its functionality into the main sections of Music, Video, Photos and FM Radio plus Recorder, Calendar, Stopwatch and Files options with each one represented by an icon on the Home screen. You can access content in each category by tapping the relevant icon and then selecting from the media available. A selection of content is supplied for Music, Video and Photos. While Music and FM Radio will retain the default portrait orientation, Video and Photos automatically switch the screen into landscape mode.
Adding your own content to the Archos 3 vision requires the presence of a computer whether Windows or Mac platforms. The Archos device will be recognised as an external drive. You can then use Windows Explorer (or Finder on a Mac) along with copy & paste to transfer content. Windows users can also use the Windows Media Player's sync option. While connected to a computer, the Archos device will be recharged. If you have a mains plug with USB adapter then this method can also be used to charge the Archos 3 vision.
Image quality, whether viewing still images or video clips, is of a high standard. Video was smooth without any jerking or picture distortion. However there was a noticeable lack of synchronisation between the video and audio when playing MP4 video content. Playing the same video clip saved as a basic AVI file did not display the same problem.
Still images can be viewed as a slideshow with a choice of time delays. However you are stuck with a basic change between images without any transitional effects. It is possible to have a music soundtrack playing while viewing images but this does require you to set the music playing before starting the slideshow.
Music tracks can be viewed by artist, album, genre or all music. You can manually add tracks to a My Favourites category. When playing music you will be shown information than can include track, album, artist, current duration and song length. There is an option to display album art, lyrics if an appropriate .LRC file is present, or frequency spectrum with the latter being the default if the selected choice is not available.. Tracks can be played in order or randomly with support for MP3, WMA, WAV, FLAC and OGG formats. Not supported are playlists and DRM protected tracks.
While there is no bookmark feature as such, the Archos has the facility to allow you to continue from the last position with both video and music files. Any settings changes will be remembered but only if you shut down the device using an on-screen icon rather than the on/off switch on the base of the unit.
The Archos 3 vision comes with 8GB of memory which is not expandable. This memory should be enough to store up to 4000 song titles and dozens of movies. To help you quickly navigate through this content, the developers have come up with a virtual scroll dial which sits in the lower right corner of the screen when it is touched in that area. This feature does take a little getting use to and is not the most responsive tool in the box. Battery life is estimated at 14 hours when playing music and dropping down to 4 hours when used exclusively for video.
The Archos 3 vision is obviously going to face stiff competition from the iPod Nano. While the Archos device has the advantage of a 3-inch touch screen and lower price point at £89.99, it is held back by a slow response time for various actions and you will either love or hate the way scrolling is handled. Overall I was reasonably impressed with the Archos 3 vision but feel it could benefit from some improvements.
http://www.archos.com/products/mp3_players/archos_3/index.html?country=gb〈=en