LG Blu-ray Home Cinema System HB345BS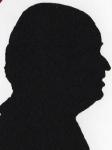 Review controls
With all the Blu-ray drives I have reviewed somewhere I have mentioned that Blu-ray is not only about picture quality but Dolby sound as well. Here not only do you get the Blu-ray player but also a rather nice set of speakers.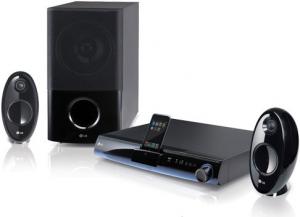 click image to enlarge
It is 43x30x7cm with cables inserted. It weights just under 5kilos. All but the front is matt black; the front is shiny black and electric blue.
The left side of the front is where the drawer for inserting discs is, Blu-ray, DVD and even CD's. The central area has a pop out iPod holder and the right side has six illuminated (when on) buttons and a large volume control knob.
The sides, top and base have nothing leaving a very full back of connections. The left side has the hard wired 1.4metre mains lead. Next the three pairs of speaker wire grippers for sub woofer, front left and front right. Next the radio aerial followed by 'Digital Audio In' coaxial and optical. Next is 'Port In' followed by 'Component Out' Audio in and Video out. Next the LAN port, two HDMI in ports and finally an HDMI out port.
There is of course a remote control and while so far it has failed to make the tea it has 54 keys and they seem to have the ability to do almost everything else.
The pair of supplied speakers are 22x11x11cm while the sub woofer is 38x30x21cm neither need power and the only connection is the 2.8metre dual wire. The speakers are shiny black with a chrome foot while the sub woofer is of course black wood with a shiny plastic face grill. The speakers are 75watts while the sub woofer should really annoy the neighbours if you crank it up to the full 150watts. The speakers weight just under 1.1 kilo each while the sub woofer weights a tab under 6 kilos.
I understand that apart from the 2.1 system I reviewed they also to a 5.1 system but my rooms are not really large enough to do justice to that system.
So this home cinema system not only plays your DVD and Blu-ray movies but you can use it to play your CD's (you will certainly notice the difference if you have a low power/quality hi-fi) also your iPod will have a new leash of life.
For the technically minded this unit has DTS, Dolby Digital and Dolby Prologic. Should you wish the LAN port enables you to stream You Tube videos direct from the Internet. BD Live allows you to download extras for movies that support that feature.
LG Sound Gallery has seven options to enhance the sound being played, Night Mode to reduce bass (if you don't want to annoy the neighbours), Game Equaliser for amazing sound and MP3 up-scaling to improve sound quality being just three.
The iPod dock also charges your device while it is playing.
However best of all the picture quality is superb not only did I try it with my own TV but a Sony Bravia WE5 that I reviewed a couple of weeks ago. Until you have heard movies using external speakers you do not realise the difference that there is to using your TV's own speakers. If you have the room for a 5.1 system them that is what you want for the real cinema experience this 2.1 system is a vast improvement over a standard TV output. Remember Blu-ray is not only the enhanced image quality it is also a vast improvement in sound quality as well.
Doing my Internet searches found the LG HB345BS Blu-ray Home Cinema System at a best price of £386.44 including free delivery from the first link below.
http://www.amazon.co.uk/gp/product/B002BSI3X0?ie=UTF8&tag=gadge0a-21&linkCode=as2&camp=1634
http://www.lge.com/uk/tv-audio-video/home-cinema/LG-HB354BS.jsp