ION USB Record Deck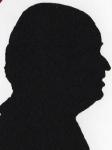 Review controls
It must be at least two years since I first saw these sort of items advertised, however for one reason or another it is only now late in 2008 that I finally got to test one. This unit from ION comes with three different pieces of software.
Buy Now!
ION iTUSB-05 record deck
£64.95 from Amazon
including shipping


£79.95 from Firebox
including std delivery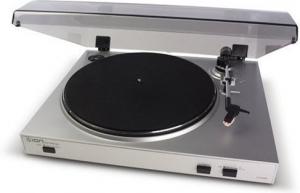 click image to enlarge
The record deck is 40x34x10cm, mine was silver in colour with a clear Perspex lid. There are three push buttons on the front and a USB connection on the back along with two RCA audio output sockets and mains lead input.
The three push buttons are for setting the deck speed 33 or 45, to automatically lift the stylus from the record and a stop button. The reason I mentioned these is that they are not controls to effect in any way the output to the PC. This is a totally dumb unit that just plays LP's with no audible sound output (unless you connect the RCA sockets).
The three pieces of software are Ez Vinyl Converter, iTunes and Audicity software. The first and last install in seconds and the middle one takes around five minutes, in total they take around 220MB of hard disk space.
Load the Ex Vinyl Converter and follow the prompts. 1) Put record on the deck and lift stylus onto the record. 2) Press record. 3) Either press next or record another track. 4) Fill in details of the artist, album and track details. Then once it has the items stored on your PC/Notebook it then opens iTunes and the data is transferred into MP3 at 192MBPS.
Copying from the deck to the PC is a real time process and while you hear something like what is playing it will not sound great with a number of clicks that are probably not on the record or if they are you would not normally hear them. At this point you probably think I have just wasted £80 as this is terrible. Do not give up, it gets better, a lot better.
Once iTunes has compiled the tracks you can play them and now you hear the real sound captured it's quite good and unless you give it a really naff LP to work with no clicks or crackles.
To give an example I transferred ten tracks they totalled just over 76 minutes of music, with side switching this takes around 80 minutes. Next there is around three minutes where the PC works in the background on the data and you see nothing happening apart from a little hard disc activity. Next enter the details into a form that pops up on the screen say another four minutes. It then opens iTunes and this changes things into MP3 and this takes another ten minutes. So to copy the 76 minutes of music and turn it into MP3 will take around 97 minutes.
This of course is a Digital signal and as such is just a white noise, probably the reason why the quality you hear whilst recording is less than perfect as it needs to be converted back to Analogue very quickly so you hear it in near real time.
The ION, Ez Vinyl Converter and iTunes method gives 192mbps MP3 scanning the manual I can find no way of recording in .WAV which of course gives CD quality.
The method I have used for years involves using a standard record deck/amp and taking the output that would go to speakers carve up the end of a 3.5mm to 3.5mm lead and plug this into the sound card on a PC, yes you do need to be careful that the volume level is not too high and then I use a rather nice piece of software called LP Recorder from an Australian company. This gives .WAV output and then using whatever CD writing software you like to produce CD's. I can then use other software -my choice has always been Music Match to make MP3 files.
So should you want to make .WAV files the ION solution cannot do it. However if all you want is rather good MP3 files then the ION solution works well. If you need to edit the files then the Audicity software can do this with bells on.
The ION record deck is available from www.firebox.com/product/1401/USB-Turntable at a cost of £83.90 including their standard delivery charge.