Roberts CRD-51 DAB Clock/Radio

Published Nov 10, 2008 Author
petew
Review controls
Also called the 'GlowTime', the CRD-51 is a neat little bed-side clock radio that's available in black, white or pink and offers a very flexible alarm system.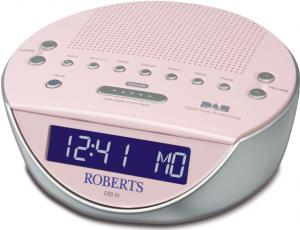 click image to enlarge
I've been provided with the 'pink' version for this review, a fact that was not lost on my daughter, who promptly disappeared with it to her room where it remained for a good few days until I could rescue it and put it through its paces.
This is a particularly attractive product (not only my opinion - my daughter helpfully agreed!) measuring 166 x 60 x 150mm (WxHxD) and weighing around 450g. This is a mains only radio which has the very welcome, and uncommon, benefit of a built in power-supply.
Reception is via a wire aerial that's around 50cm long. This is probably a good option for a bed-side table rather than a telescopic alternative. It can however be difficult to suitably locate the wire to give good reception, usually requiring a little blue-tak and a conveniently placed wall or window.
One of my daughters few complaints was that they CRD-51 failed to find her favourite station, Kerrang!, which she has no problem finding on her own bedroom radio. This wasn't a result of the aerial, I found that I had to manually invoke a "Full Scan" function, which then managed to discover 60 stations (including Kerrang!) rather than the 40 found with the standard scan. Checking with the manual the standard scan (loc-scan) should check the UK DAB frequencies while 'full scan' will search all DAB frequencies. This isn't a problem I've found with other DAB radios, so something of which readers should be aware.
If you live in a poor DAB reception area then you can fall back on FM radio.
Once you've found your favourite stations you can store these in 20 memories (10 for DAB, 10 for FM frequencies). This is definitely a good idea if you're in the habit of listening to more than one station. Switching station is via an up and down channel button that only seems to move one station per push. This can be a little annoying if you're stepping through lots of stations to find the one you want and much slower than the more traditional rotary dial.
Sound is reproduced through a 500mW, 66mm speaker which, as one has come to expect from Roberts, produces very good quality audio.
One of the big benefits of a DAB radio/alarm is that you don't need to set the clock. As soon as you switch on the CRD-51 and it locks onto the DAB signal the clock automatically adjusts the time. It should also automatically adjust for summer-time.
The CRD-51 has 2 separate alarms, each of which can be configured to trigger on either once, every day, weekdays, or weekends. When an alarm is reached you have the choice of waking by buzzer or by the last tuned DAB or FM station (you can choose which). The buzzer is quite effective - it doesn't actually buzz. Starting very quietly it beeps, at about one beep per second. It gradually gets louder over about 60 seconds until it's at a volume I challenge anyone to sleep through!
For those like me that need a slow start to the day there's a good sized, and obvious 'snooze' button. The default snooze is 5 minutes but this can be adjusted in 5 minute increments up to 20 minutes.
The display is a nice clear 70x20mm rear-lit LCD display. This can be set to four different levels of brightness including, for those like me that can't bear any light when trying to sleep, completely dark.
Many people like to drop-off to their favourite radio station - and to cater to those the CRD-51 comes with a useful 'sleep' function allowing the user to have the radio automatically switch off after between five and ninety minutes, in five minute increments. If your partner doesn't want to listen then a head phone socket is provided.
Summary
This is a great clock/radio for those that want a small bed-side unit with a flexible alarm, good quality sound and a very reasonable price. It definitely passed my daughters test who was somewhat disappointed when I removed it from her room!
The price on the Roberts web-site is £49.99, John Lewis have the 'black' variant at £49.95. Amazon have all colours available priced at : £38.98 in black, £40.98 in white and £39.44 in pink.