Two from Brando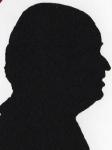 Here I am looking at two items that come from the company that charges $3 US shipping no matter how large your order. Fist an MP3 player that looks like a largish Lego brick and then an Alarm Clock radio that takes SD cards so you can wake to your choice of music guaranteed.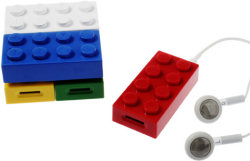 BB5003 MP3 Player Lego Brick
This is a MP3 player but instead of using either internal memory or that of a USB stick it uses a Micro SD card (the ones most mobile phones use) this also gives you another way of transferring content from your phone to a PC or visa versa.
It is 5.5x3.x1.5cm and mine was yellow but I think there are other colours. Apart from it's slightly larger size the top view looks exactly like a Lego brick. There are eight nodules on top three are dummy and the other five are the controls.
The ends of the brick are where things are attached. One end supplies power for the solid rechargeable battery, plug in the supplied USB for six hours to get a full charge. Beside the mini USB socket is a standard 3.5mm socket for earbuds. The other end has the micro SD socket, cards are inserted face down.
There is a small instruction sheet but once you have held down the correct button for a few seconds to turn it on all the controls are obvious. You of course have no display so the only options are to move forward or backwards by a track. Volume was adequate for earbuds. I prefer my own as in ear buds are not comfortable for me after a while but those supplied are okay.
Available via this link for $45 US and an additional $3 US for postage. So that's around £24 remember it does not include the Micro SD card.
http://usb.brando.com.hk/prod_detail.php?prod_id=00473&cat_id=035&dept_id=015

"Snow Angle" Musical Alarm Clock with MP3
This is called 'Snow Angel 'The Audio Artist'' on it's face. My unit was appropriately white.
It is 25x10.5x3.5cm however the mains lead would add 2cm to the last figure the depth. The reason I quote that separately is that it can be run on 4x'AA' batteries.
Each end of the face are two speakers that give a good sound for such a small unit. More accurately the face is a while pierced metal grill with a 7cm wide white plastic insert in the centre that contains a 5x3cm four line LCD display (black on grey). The top line has eight small icons. These are sleep timer, alarms one, two and three. Support for Lan, SD card slot, FM radio and battery state.
Line two and three are the time display with volume level shown by increasing bars on the left side (1 to 6) I found level two was fine when beside your bed unless you are a heavy sleeper. The forth line tells you the number of the MP3 track you are playing and if you are play sequentially or randomly.
I was disappointed with the FM radio reception was rather poor and there is nowhere for an external aerial.
Being woken by your favourite music is nice and remember there are three alarms so dependant on the one you choose you can have each with a different track. The units are supplied with various amounts of internal memory (mine was 1GB) and together with an external SD card that gives you a good amount of available music to suit all your moods.
Available from the link below for $48 US plus a standard delivery charge of $3 US however large or small your order is. So with the current exchange rate that's around £26.
http://usb.brando.com.hk/prod_detail.php?prod_id=00431