Polaroid 32inch Definia Digital TV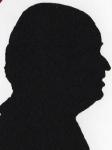 Review controls
After my recent review of the excellent Analogue TV from Polaroid I took little persuading to look at their brand new digital offering.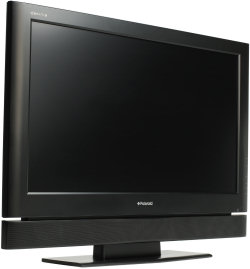 The Polaroid Definia is totally black not only the screen surround but also the speakers mounted below the screen. First the dimensions, it is 83x58cm and the rectangular stand (23x51cm) raises it 7cm above the base. It is a maximum of 10cm thick and the actual screen is 69x39cm giving the notional 32inch diagonal measurement, (actually 31.5)
The front displays a red LED when in standby and a blue one when on, the left side - joy of joys - has an easily accessible on/off button. The right side has two HDMI sockets together with the VGA type PC connector. Everything else is on the back under an overhang making it not that easy to access without a mirror unless you have space to get behind the TV, however the manual tells you where all the sockets are and mostly you only plug things in once.
Before first switch on make sure the aerial is attached and any subsidiary analogue devices such as a video player are switched on. Switching on starts auto tuning. Mine did digital first - or so I thought - but when I switched to analogue this was done so I assume they are done together. It was quite quick and everything was found. The normal five analogue TV channels and my video recorder. On digital I had 55 TV and Teletext channels (some are encrypted) and 26 radio channels as is normal with Freeview.
The only time I need to go near the TV is to switch it on/off everything else can be done from the 52 key remote control, I am not one to leave it in standby.
In most cases switching anything on that connects via a SCART cable switches to that, on the odd occasion it does not then there is a SCART button on the remote that toggles through all the available SCART offerings. A press of a channel button, ie 4, brings you back to Channel 4. Switching between analogue and digital is simply a single press on the TV button.
It of course has a seven day program guide when watching digital TV and switching channels shows now and next. It also supports PIP (picture in picture) across a number of modes and this includes TV.
For those who like falling asleep in front of the TV there is even a sleep button so it will go to standby after a pre determined period. One thing that differs from a number of other recent TV's I have looked at is that you need to press the on/off button on the remote before selecting a channel whenever the unit is in standby. When switched off - remember we all need to save the planet - a switch on takes you to standby.
I found the picture quality excellent and also the contrast (1200:1), brightness was if anything a little glaring especially when you have large areas of a single colour with small sized text in it, say 50% or more of the screen. The local news in my area has a logo with a large expanse of orangey red and a few small white letters in it. The colour tended to drain into the white, as soon as a normal image is shown everything returns to normal. For a 32inch digital TV this is available from Curry's at a very good price see the first link below.
While I only test the PC connection to see that it works correctly I doubt anyone would normally use the PC link for any period of time. HDMI is of course another matter and the side placing of the twin HDMI links means that the higher quality of image available on this very recent offering allows Blu-Ray or HD films to be shown to their best. This is a good quality digital/analogue TV at a reasonable price. As stated it is available from Curry's the first link below at £349.99 including free delivery.
http://www.currys.co.uk/martprd/store/cur_page.jsp?sku=804066&page=Product
http://www.polaroid-definia.co.uk/uk/definiarange.html