100,000,000 iPods sold - time to take a closer look!

Published Aug 30, 2007 Author
petew
Review controls
In April this year, Apple announced that the 100 millionth iPod had been sold. That figure is mind blowing in it's own right. So what's all the fuss about? To find out I've taken a look at the Apple iPod Shuffle, the latest second generation version.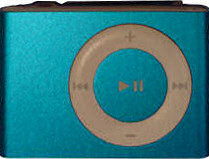 BIGGER than real-life!
Before even opening the box, you're struct by to things. Firstly - this thing is tiny. Secondly the packaging is tiny. At about 4cm by 2.5cm the iPod Shuffle is around the same size as commemorative postage stamps. It's a little thicker of course at around 1cm, and weights in at a hefty 15 grammes. That really is tiny and potentially very easy to loose. You don't really want to put something that small into a protective cover - because that would probably double the size.
Apples solution is to effectively make it into a tie clip, or belt clip - or anything else clip so you can attach the little fellow to something you're less likely to loose. If is wasn't for the clip it'd only be around 0.5cm thick.
Packaging : many manufacturers, when bringing out something small, seem to have an inferiority complex and feel compelled to package it in a box that has more air than an empty cereal packet. That or they insist on hermetically sealing the product in defence grade plastic, afraid I guess that their product will be contaminated by would-be owners actually touching the fragile serface. Once opened with your sharpest scissors it's never going to get repackaged.
Apple bucks the trend here as well, taking the 'small is cute' concept from the tiny product itself to the packaging. Arriving in a clear plastic package it can hardly be called environmentally friendly, however the packaging opens nicely and you'll be able to keep it to protect your Shuffle when not in use.
Once you've finished admiring the packaging you'll quickly succumb to temptation to play. Inside the transparent box you lift out the Shuffle, then fold out a couple of flaps to get to the white iconic Apple headphones and a very simple USB docking station. As well as transferring music to your Shuffle, the docking station is also the only means of charging the battery.
You're also given a handy carry around memo card reminding you which control does what. Your memory is worse than mine if you actually need that! The only other documentation is a quick-start guide covering both the iPod Shuffle and iTunes.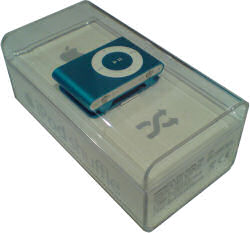 To cater for all tastes the Shuffle is available in five coloured, brushed aluminium finishes : silver, pink, blue, green and orange. I've not used this for long enough to know how the finish will suffer over time. I'd not recommend stuffing it in your pocket with loose change however.
The Shuffle has 1Gbyte of storage, the only capacity available and enough for around 200-250 tunes. You'll need to download iTunes in order to transfer music. Unlike other music players you can't plug the device into a USB port and simple copy music from your hard-disk!
I'm not going to review iTunes in this article. That's been done before. Suffice to say that's it's a free download, and is mature enough that I had no problems installing on a Windows Vista machine with lots of software already installed. I'm not a fan of the iTunes shop concept - preferring to buy CD's (insurance against a computer failure) but iTunes successfully located all my stored MP3 files and happily downloaded them to the shuffle.
Controls on the Shuffle are simple. There being no screen (which on some machines seems to have been an excuse to complicate the user interface) your options are limited. There is the standard iPod 'wheel' centred on play/pause. To the top and bottom of this are the '+' and '-' keys that control volume. To the left and right you have the previous/next track controls respectively. That's it. No option to hunt through tracks because, well, that would be complicated.
There are two additional switches on the 'top' of the unit - very small toggle switches. One is on/off. The other selects between random (shuffle!) play versus playing straight through the tracks. When 'on' there is also a coloured 'power low' indicator slipped in. This varies between 'amber' for I've got lots of charge left, to red which means battery is low. Unfortunately not a lot of use to those among us that are lucky enough to be colour blind!
Sound quality was good. I preferred my own head-phones over the Apple supplied ones, although theirs did look a lot better!
Battery life was a claimed 12 hours, which is pretty impressive, given the size of the device the battery must be close to microscopic.
The Apple iPod Shuffle is available from around £28 upward. One of the best on-line prices is as usual from Amazon, at £27.99 - and that includes shipping. DABs at £29.99, but then you have to pay £4.50 packaging. Link for Amazon :
http://www.amazon.co.uk/gp/offer-listing/B001FB5FVW/
You can get other 1G MP3 players for far less than £40 of course. A quick search of MP3 players shows you can a 1G player for less than this - but then it's not an Apple and 100 million people already didn't go for the cheapest player.