Take it to the Limit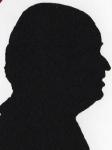 It's not just winter that is good for games, here is one of the offerings that could be a big seller this Christmas that I saw at the Toy Fair last January. Perhaps a more responsible offering than 'In The Drink'.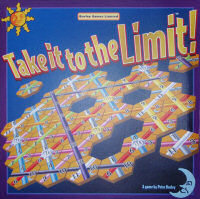 Certainly not a game to attempt after you have had a few as it requires thought. It is for 1-6 players and is stated to be for age 10+. However the game played by the solo person is somewhat different to that when played by 2-6 players.
Not an easy game to describe, in fact it is possibly easier to play than describe. Each player has a board to place their six sided pieces on. There are in fact three boards one for a less involved game - on the rear of the main board - and a smaller scrap yard board for pieces not required.
The object is to place pieces of the same type (coloured line) in a line either vertically or one of two diagonals. Certain lines are worth more than others the silver are worth one, pink two, metallic pink three, blue four, gun metal blue five, red six, green seven, yellow eight, black ten, white eleven and purple twelve. There are three of each symbol on each piece. So should you manage to place 7 of the white in a row that's 77 points. There are also bonus tiles and if I go into those now I will confuse myself as well as you. But these are added to your score to give additional points.
The game is completed when all tiles are laid on the board. This is done one at a time. The first player has there tiles face down and selects one at random, all other players tiles are face up and they must choose the same tile as the first player, the choice is where you place it on the board.
I mentioned a scrap yard board and here you could be penalised 60 points if your scrap yard board does not add up to enough points so you need to keep a check on two boards during the game. On the back of the main board (Nexus board) is the Orchid board. With this game you will not need the scrap yard board.
With the Orchid board you separate the tiles into two each tile either has a sun or a moon icon and you agree either to use the sun or the moon tiles. The method of playing is the same as with the main game with the first players tiles being face down and whatever tile selected is placed on the board anywhere you wish, the board however is slightly different but I will not confuse you here by going into the difference. Everyone else then selects that tile and places it on their board. This is a quicker game as it involves less tiles but there is some flexibility as certain tiles may be moved.
In the single player mode you select one tile at a time and just try to beat the high score you have. This allows you to work with the tiles and get used to the numbers and the frequency of tiles of that number occurring.
I would certainly think that most ten year olds would need that extra lateral thinking brain to enjoy the game. Certainly even for adults a clear head is an advantage.
It is a game that people can play without really understanding it however it gets harder as you do understand the game and you begin to see what options you have. Certainly sometimes you will try to keep certain avenues open for when that special tile appears (both in the 44 and 32 tile game) but maybe this is not always the best policy.
I enjoyed playing this game and so did my friends, it can be purchased from the site www.burleygames.com and costs £20. They also do another similar games called Take It Easy.