Evesham Portable DTV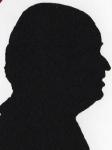 Review controls
Fancy a Digital TV that will fit into a pocket? Well this offering from Evesham has a seven inch screen and given the right conditions can view any UK Digital TV station.
Buy Now
£149.99 direct from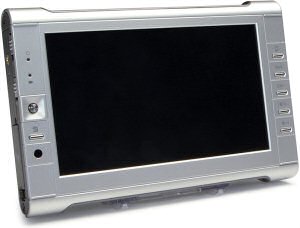 The Evesham Portable Digital TV is 20x13x2cm and weights just over 500grams, so a large pocket is a possibility. However when used in a house you get the full range of Digital Channels (Freeview) when plugged into a standard aerial socket via an adapter supplied with the unit.
When using it with the supplied magnetic stick lead in the house only a few channels were available. Take it away from a standard aerial this stick lead is vital and the success - or not - of this product depends on it's reception qualities with this unit.
This can work on it's internal battery and that must produce a possible conflict for the TV licensing authorities, I have heard some views that if you only use a TV on batteries then a TV licence is not required. This is not necessarily true and no doubt it will have to go to a court case to be proved or not.
If you can get a satisfactory signal then I can see that this unit would be ideal for people with caravans etc or even for those who put the seats down in a hatchback. The stick lead is around 1.5metres long with a magnetic base at the end of this lead then a 9cm stiff wire. The ability to receive channels is partly down to line of sight and partly down to the metal object it is attached to.
When I tried scanning for stations in the home using just the stick aerial I got less than ten channels, scanning again via a normal aerial and the supplied adapter produced more than fifty. I took my car to the top of some local hills and got around twenty channels but even then position of the stick aerial was critical and some pixelization and frame dropping took place. As I have not undertaken any long journeys recently I cannot say if this problem is better or worse elsewhere.
The screen surround has five buttons on the right a button and five position rocker with two pin hole LED's on the left together with the remote control sensor. While basic operation of the unit is possible from the controls on the unit certain actions such as swapping from TV to Radio mode is only possible from the 36 key remote control. There is a 32 page manual and this explains anything that may be less than clear. The rear of the unit has a clear plastic stand allowing it to be propped up at around sixty degrees like a picture frame.
One way to describe this unit is a Freeview box with screen and speaker. It has all the functionality associated with a box of this type it is possible to lock various channels should you feel the content is unsuitable, it also has a built in EPG and this would be useful for those away from the daily papers.
On the face of it a 7inch portable TV that can be run either from battery or mains is useful not least for those who suffer from power cuts and do not want to miss a certain program. However when being used away from a standard aerial the most important thing is reception. The best battery life I got was a little over 90 minutes so don't settle down in your caravan on battery power expecting to watch an evenings TV. The price from the link below is £149.99 including delivery.
http://www.lowestonweb.com/Products/DisplayInfoMain.asp?e=0ACA9018-4A1A-4B14-B886-55C642129FF4
Also available directly from Evesham at £149.99 :
http://www.evesham.com/products/info.asp?e=C990DDC2-3155-49D9-8639-430ACF744DDE