G-Flash Metal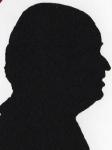 Review controls
I assume that the Metal part relates to the tin box it comes in but it could be the case of the unit, this is a MP3/WMA player that has a rather good voice recorder with it.
Having recently reviewed a device doing much the same for kids we come to an adult version, it is shaped like a fat pen/stick drive and the supplied USB extension drive will probably be required when you only have one spare USB socket, it has a brushed metal finish that feels cool to the touch.
It is 8.5x3.5x1.5cm and weights only around 50grams with the supplied one 'AAA' battery inserted. The face has a three line 3x1cm display that is surprisingly clear to read light blue text on a black background and this includes some reversed white on blue text all very readable, once the default period of display has elapsed you get a small blue blob randomly moving around the display in the fashion of a screensaver.
It works slightly differently from most of these devices in that a different button is used to turn it on to the one you use to turn it off. Both need to be held for a while to work thus lessening the change of an undesirable action in the pocket or bag. The on switch is to the left of the screen and the rather good pin hole microphone to the right.
The top has link for supplied neck strap and the unit is also supplied with a Velcro wrist strap, also on top is the earbud socket for the rather good Senheiser earbuds. While on the supplied items there is a neoprene clip case and a CD with a user manual while another CD has a copy of MP3 pro, finally there are a number of what look like special offer leaflets - unfortunately in German - and two copies of a Quick Start Guide - one fortunately in English - and this is all most are likely to need.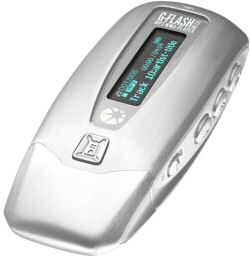 There are three buttons on one side and three buttons plus the hold slider on the other side. The base has a door where the 'AAA' is inserted. This is a USB 2 device but it will still work on a PC with USB 1.1 ports.
Battery like is around ten hours and while this would be less with a rechargeable battery - I found around half - they work out cheaper in the end.
This is a 1GB unit and this allows you to copy large amounts of MP3/WMA tracks to the unit. As always these units come with a number of tracks - normally by artists most people have not heard of - but a dozen of the 25 tracks supplied here are by Toni Braxton who even I have heard of.
My favourite part was the voice recorder mainly because it is a lot less effort to arrive at the right setting and to make and stop recordings. These are .wav and use around a MB of space per four minutes. I was quite surprised at the quality of playback especially through speakers within Windows. I did find that the volume level on the device through the earbuds was a little low for items recorded on the unit. This did not apply to music in either format transferred to the device.
As the unit can use drag and drop there is no reason why it cannot also be used to transfer data. Unusually it comes with a 24 month warranty. However it does cost more than some other units of a similar capacity.
www.amazon.co.uk
£110 as yet not shown on the site so the German link is given below.