Pentax Digital Camera WG-3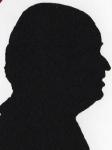 Review controls
Having recently tried other digital cameras designed for those who photograph underwater I did not expect too many surprises from the Pentax WG-3. Here in the introduction I can say that I was wrong, very wrong, as it has two features I have never seen before.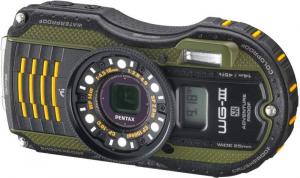 click image to enlarge
First one that I – and others I have shown it to – struggle to see a real world use, a digital time display on the face. Second a feature that could have uses a two way spirit level on the display screen to tell you if the images you are taking are straight.
This waterproof compact digital camera measures 13x6.5x3cm and weights 240grams. As it is intended to be used underwater the optical zoom takes place inside the unit using a periscopic device so the size figures given are both minimum and maximum.
The right side has a meaty wrist strap anchor point. The top has on/off button and shutter release. The left side has six yellow flashes among the otherwise black unit. The tripod anchor point on the base for those times when you are using a tripod and a unique two slider action to open the base to revel the solid battery and any SD card used.
On the face is the already mentioned digital watch display, the flash and the lens. The lens is 2.5cm from the flash. This leaves the back dominated by a 6.5x3,7cm TFT display. To the right of this are three pairs of well marked buttons and between pair two and three the ubiquitous five position joystick.
When you first turn on six white LEDs come on around the outside of the lens.
This is a 16MP offering which can capture images in ten different sizes and three different image shapes.
They are 16MP 4:3, 12MP 1:1, 12MP 16:9, 7MP 4:3, 5MP 16:9, 5MP 4:3, 4Mp 16:9, 3MP 4:3, 2MP 16:9, 1MP and VGA both the last two are 4:3. Each of the sizes can be captured in three compression modes.
You can of course also capture video this is in three modes [email protected], [email protected] and [email protected]
On looking through the settings I find there is an alarm mode which I suppose is a vague use for the clock display, however as all cameras have built in time and date to be possibly shown on images and certainly placed on the EXIF information I still struggle to see a real use for the clock.
It has 4x optical zoom and then a little more but this is digital. While 4x optical is not a lot remember this is all done inside the camera.
So you want to know what brilliant images I got while snorkelling sorry the only tests I did was in a local pond and the only part of me that went underwater were my arms so the images I got were purely relying on the cameras autofocus.
However I did use it for a range of types of images while out and about including my first ever visit into Tower Bridge, photographs taken were OK but could have been better as the most interesting views were into a bright setting sun.
Images taken on more mundane examples both inside – with and without flash – and outside were perfectly acceptable.
You of course have GPS which can really be important as while landmarks show up in images taken on land those underwater are far less obvious. While on the subject of underwater it states it is waterproof to 14metres (45feet), sorry you will need to test this for yourselves.
The link below shows a video of it in use, while it is used underwater it is shown as more of an extreme sports camera with its crushproof and drop resistant features being emphasised.
The Pentax WG-3 is available from the link below for £264 with free delivery.
http://www.amazon.co.uk/gp/product/B00B7JT8G0?ie=UTF8&tag=gadge0a-21&linkCode=as2&camp=1634