Samsung Galaxy Camera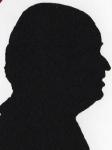 Review controls
Certainly a crossover device, as Samsung makes smartphones and Samsung also make digital cameras. So in theory anyway a digital camera that looks like a smartphone with a quality lens added to it has a good chance of being a winner.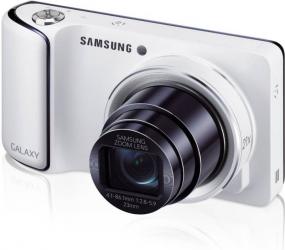 click image to enlarge
If you add a micro SIM then the Samsung Galaxy Camera can be your device for use everywhere. Using Wi-Fi without the micro SIM means you can do most things that a computer can anywhere where there is a signal. So is it a camera or a smart phone, you decide.
The camera measures 13x7x3.5cm but the last figure the width can expand by over 5cm when the lens is fully extended, the zoom can be up to 21x. The viewable screen is 10.5x6cm.
Going round the unit there is little to see. On top there is a small on/off button and towards the right side front edge on the manufactured bump to facilitate holding is the silvered shutter release with the telephoto control around its edge. The flash emerges from the left edge but until you press the silvered release button on the left edge you would not be aware as it sits flush. It is a minimum of 6cm above and to the left of the lens so no flashback.
The right side going into the bump is covered with a non-slip material to enable holding, there is a flip open door behind which is a USB connection. Towards the bottom is a wrist strap anchor point. The base has a tripod connection screw and a flip open door behind which is the solid battery together with any micro SD card – up to 64GB - and micro SIM you use.
Everything else is controlled from the TFT screen. It runs Android 4.11, if you shut it down in camera mode it will restart in that mode but a press of the Home button that stays on the top left of the screen will bring up the home screen with access to all your Apps.
It has 4GB of internal storage without the optional micro SD card.
Images captured are a tad over 16MP in size and have good depth, by default you are in 'Auto' mode but the 'Smart' mode has a choice of fifteen modes including a continuous shooting mode. You can change to video mode at a touch of the only other button on the camera home screen. Like most Digital Cameras it can also capture images at lesser sizes, a total of eight are available but this option is somewhat buried and not immediately available.
If you store images in the conventional memory you will need to use Bluetooth or Wi-Fi to transfer them to a PC. However if you use a micro SD card it can be removed and the images transferred from that via a card reader.
For those into video this can capture 768x512 images at 120FPS and of course plays them back slowly ideal for really fast action to analyse. Extra Apps not on other Android devices are Paper Artist and Best Face, both help give your pictures that professional touch. The normal capture size is 1920x1080 at 30FPS lesser sizes at greater FPS.
Standby time is 280 hours but being a vintage person I tend to switch on and off, once you say switch off you need to answer 'it will switch off' again to turn off. On first start up there is a short astronomical sequence which does not replay again in the same day if you switch on several times. 3 seconds to camera home screen from off and about the same to shut down as you need to answer two prompts.
I am undecided about this unit, the images were fine, being able to email an image instantly can be done but then most phones can do that. The images here are of course better but at 300grams it is heavier than a lot of phones.
My unit was white but I see they also do black. I think you would need to be into photography to get the best from this and then send the odd email or search the WWW as an occasional side-line to find those who would utilise this best.
The Samsung Galaxy Camera is available from the first link below for £309 with free delivery.
http://www.amazon.co.uk/gp/product/B009K27FMK?ie=UTF8&tag=gadge0a-21&linkCode=as2&camp=1634
www.samsung.com/uk/consumer/mobile-devices/galaxy-camera/galaxy-camera/EK-GC100ZWABTU-spec