Samsung NX1000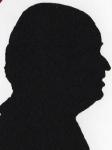 This camera has a removable lens, mine came with a 20-50mm offering that is fine for a lot of normal images. However its small size could possibly have it confused with a basic digital camera, this it certainly is not.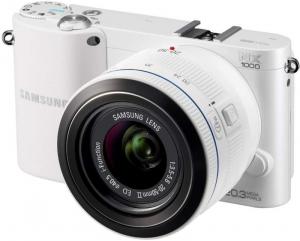 click image to enlarge
It is 11.5x6.5x11.5cm, it weights 400grams without the provided neck strap. My preference was to use it as a digital camera and while you would need a capacious pocket it easily fits into a bag. The hold grip for the right hand is comfortable.
The left side has only the anchor point for the neck strap. The right side has the opposite anchor point as well as a door that hides micro USB and mini HDMI sockets. The base has a door behind which the solid battery and any SD card you use will rest. There is also a tripod mount point very useful to let you make use of the units 20MP images.
The face has only the lens which on my test unit was a 20-50mm offering. The top has a shoe for an external flash, a small removable flash is provided but if you take a lot of images with flash you will probably purchase a separate flash unit. To the right of the front on the finger grip bump is the shutter release with the on/off slider around it. Nearer the back is 'Smart Link' button and finally towards the right edge a ten position wheel.
This leaves the back that has a 6x4.8cm TFT display to its right the rest of the controls, thumb rest, video shoot, and below this the ubiquitous five position joystick with two pairs of well marked buttons above and below it.
One thing I did not mention is the function button on the left of the lens this enables you to get adjustments using 'Smart' that normally would need you to be in 'Manual' mode. The fine movement on the camera ring needs practice to perfect but once into it the results sparkle. Another selling point is the Wi-Fi enabling far more than image transfer.
This unit is available in black, pink or white, and while the white sample I had produced some strange looks it works fine, I am glad I was not sent the pink. The casing is plastic but that is not meant as a negative remark. You can program the Smart Link button on the top to do one of a range of features to suit the way you work.
You can control your camera remotely using an iPhone or Android app. However use of this is way beyond this review.
Images can be captured in a total of twelve sizes from 1.1MP to 20MP, these can be 3:2, 16:9 or 1:1, four of each type.
For video there are five sizes 1920x1080 @25FPS, 1920x1080 @24FPS, 1280x720 @25FPS, 640x480 @25FPS and 240 mode which is described as sharing mode which allows you to transfer up to a 30second clip.
I found the flash provided worked well but use of it requires planning, first of course did you remember to take it with you as with anything that is an accessory, it has its own plastic case so will easily slip in a pocket.
This is a nice unit and the battery is rated to take 330 shots per charge, I managed around 280 but find that acceptable. There is a continuous shooting mode that takes 8 frames and this works well, however the processing time is around 10 seconds before you get control back. You can take a couple of frames in a second with flash.
I was happy with virtually every image I took all were sharp and crisp and even those of moving objects so this to me is a great camera for someone who has outgrown their digital camera but is not yet ready to have weight lifting classes required for a full featured professional offering.
The Samsung NX1000 kit with 20-50mm lens is available from link below for £297.48 including delivery.
http://www.amazon.co.uk/gp/product/B007WR32G8?ie=UTF8&tag=gadge0a-21&linkCode=as2&camp=1634
http://www.samsung.com/uk/consumer/camera-camcorder/smart-cameras/nx-cameras/EV-NX1000BABGB