Samsung NX10 DSLR Camera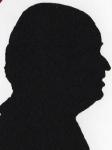 Review controls
I always enjoy the occasions I get to look a DSLR unit. This will always be the pinnacle for any amateur photographer. It gives you the chance to capture images of the same quality as those who stand around in freezing, wet or hot conditions to capture images professionally.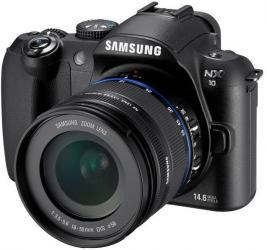 click image to enlarge
The Samsung NX10 has one advantage over most DSLR units in that the TFT can be used to view and capture images. There is a very good adjustable viewfinder but anyone coming from a digital camera is often confused/put off by not being instantly able to capture an image with the TFT.
Size is of course another thing to get used to as well as the 650gram weight. The dimensions I am giving assume it has the 18-55mm lens attached. It is 12x12x9cm (these are maximum figures for the first and third items), the width varies slightly according to the lens extension in fact measuring it then you could increase it by 4cm.
I think a novice could put it in Smart mode and get reasonable images but the main joy of a DSLR is seeing what can be achieved so do not expect perfect images straight away. Learn to use your camera and it numerous functions.
The top has the button to open the top mounted flash the top of which is the anchor point for any external flash you may use, all this on the top of the housing for the viewfinder. Next is the ten position wheel to determine the mode. Further forward is the on/off flip button and in the centre of this the shutter release. Finally two buttons used for display of images.
The right side has anchor point for the all important neck strap and below this a slide door behind which is any SD card you might insert. The left side has the other neck strap anchor point and a long flip door which has HDMI and A/V out as well as D/C in. The base has a tripod anchor point and the door behind which is the battery.
This leaves the back that has a 6.2x4.7cm TFT which is 3inches diagonally. To the right of this the rest of the controls, six further well marked buttons and of course the ubiquitous five position joystick control. Between the TFT and the right edge is a slip proof area for your right thumb that helps you balance the unit during shooting.
This is a 14MP 3:2 (4592x3056) camera but it can also take 10MP 3:2, 6MP 3:2, 2MP 3:2, 12MP 16:9, 8MP 16:9, 5MP 16:9 and 2MP 16:9 images. These can be JPG in three qualities and four different RAW standards.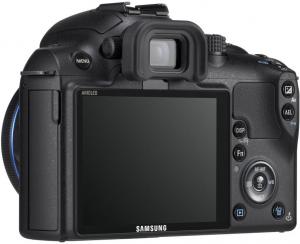 click image to enlarge
In movie mode it can take 1280 (16:9), 640 (4:3) and 320 (4:3) all can be captured in two standards of compression. However although I took some test images as a movie unit this camera is really all about still images.
While I was actually sent an add on flash unit charged by its own batteries as well as a couple of different lenses which I tested with the unit I concentrated on using the built in flash and the provided 18-55mm lens in the 'box'.
I was more than happy with the built in flash for any indoor images, I use one gig where a normal digital camera often has problems filling light to a far corner in the performance room here no problems at all with plenty of coverage. Of course if you were using it externally for celebrity type shots then external flash would be used.
Image quality both flash and non flash were excellent I even printed a few images at only 2MP which is not really enough for A4 but they were acceptable. While I used all the capture sizes a 'professional' would probably use only the 14MP mode because he/she would blow up to capture just a small portion of the overall image.
Doing my Internet searches found the Samsung NX10 at a best price of £444.10 from the first link below.
http://www.amazon.co.uk/gp/product/B00361EC86?ie=UTF8&tag=gadge0a-21&linkCode=as2&camp=1634
I found the Samsung NX10 available for $419 including delivery from Amazon on the first link below.
http://www.amazon.com/gp/product/B003CY9RWS?ie=UTF8&tag=gadge0a5-20&linkCode=as2&camp=1789
I found the Samsung NX10 available for €653,29 including delivery from Amazon on the first link below.
http://www.amazon.fr/gp/product/B003LCG4LI?ie=UTF8&tag=gadge04-21&linkCode=as2&camp=1642
http://www.samsung.com/uk/consumer/camera-camcorder/digital-cameras/nx-series/EV-NX10ZZBABGB/index.idx?pagetype=prd_detail